This Glamor Video Of The New Batmobile Is Pretty Sexy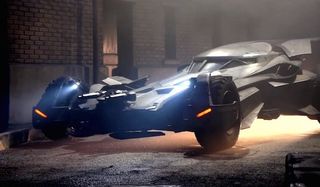 When Batman returns to the big screen next year in Batman v Superman: Dawn of Justice, he'll have a new set of wheels. As with almost every incarnation of the Dark Knight, the Batmobile will be the Caped Crusader's primary method of transportation in his war against crime. Although fans have already seen the car several times, a new glamor video gives us an all-around look at the Batmobile from a variety of angles. Check it out.
This B-roll, courtesy of JoBlo Movie Trailers, is the same footage that was used during last week's Bleacher Report video. Los Angeles Clippers center DeAndre Jordan recently visited the Batman exhibit at the Warner Bros. VIP Studio Tour Hollywood, and during that time he was able to get an up-close look at the new Batmobile. This footage originally had audio of the tour guide explaining the car's features, but without his narration, it makes it easier to marvel in the glory that is Batman's impressive superhero ride. Fans first got a look at the new Batmobile when director Zack Snyder tweeted a photo of it last year, and the car briefly appeared in the Batman v Superman: Dawn of Justice teaser trailer.
This Batmobile, designed by Dennis McCarthy and Patrick Tatopoulos, measures 20 feet long and is 12 feet wide in the back. Its rear tires are shaved-down tractor tires, which explains why they're so massive. While driving, it is able to rise when doing jumps and will go lower to the ground when cruising. The car is also the first to have machine guns attached, making it the second to rock these automatic weapons at the front, following the Batmobile from the Tim Burton movies. If Batman's no-kill rule is kept intact for the DC Cinematic Universe, these weapons will probably just be used to clear inanimate objects and obstacles from its path, similar to the Tumbler's rockets or the Bat-Pod's own guns.
Compared to the tank-like Tumbler, this new Batmobile more closely resembles an actual car, but its size and armor suggest it will be just as heavy-duty as the Batmobiles we've seen on the big screen in the past. Of course, as seen in the teaser, Batman will also pilot the Batplane at some point, so he won't be lacking for cool, black-colored vehicles.
You can see the Batmobile in action and determine how it compares to previous iterations when Batman v Superman: Dawn of Justice hits theaters on March 25, 2016.
Your Daily Blend of Entertainment News
Connoisseur of Marvel, DC, Star Wars, John Wick, MonsterVerse and Doctor Who lore. He's aware he looks like Harry Potter and Clark Kent.
Your Daily Blend of Entertainment News
Thank you for signing up to CinemaBlend. You will receive a verification email shortly.
There was a problem. Please refresh the page and try again.