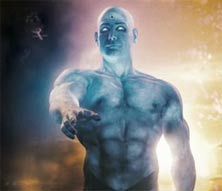 I can't breath. The first ever trailer for Watchmen is now online, and it has ripped the strength out of my body and left me a pile of flaccid goo hovering over a keyboard. The visuals are jaw-dropping the Smashing Pumpkins song they're using as the soundtrack is beyond perfect... I cannot wait to see this trailer in a movie theater. You're going to lose your mind.
It debuts in theaters tomorrow, in front of The Dark Knight. As far as I can tell, the version I have for you below came from the great folks over at Empire, but their servers are either overloaded or they've taken it down for some reason, because their version is no longer accessible. So if you can't access their servers watch it below, but make sure you give them a little love for blowing your mind with this thing. Wow. The Dark Knight may not hold onto its title as the best superhero movie ever made for long.
Your Daily Blend of Entertainment News
Thank you for signing up to CinemaBlend. You will receive a verification email shortly.
There was a problem. Please refresh the page and try again.