This Week In Home Entertainment: Captain America 2, Star Trek's The Compendium And More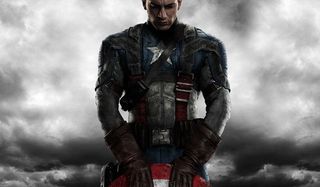 Captain America: The Winter Soldier Blu-ray
Captain America: The Winter Soldier was a big box office success when it hit theaters this spring, a shining spotlight of a film in a year filled with duds, sequels and one other Marvel hit. Captain America: The Winter Soldier isn't quite as filled with the usual wit and lighthearted tone peppering the company's superhero movies. Anthony and Joe Russo's film takes a different tone, using Captain America's gravitas to create an intriguing political thriller.
Steve Rogers aka Captain America (Chris Evans) has changed somewhat since the events in The Avengers. He no longer seems quite as out of time, although his taste in things is still decidedly old school. His team-up with Sam Wilson's Falcon (Anthony Mackie) and Natasha Romanoff's Black Widow (Scarlett Johansson) to take down a threat in S.H.I.E.L.D. grounds him even more in the present, but when a person from Rogers' past re-enters his life, it opens up a can of worms that could have political and physical ramifications for all of the superheroes on earth.
There's a lot of expensive explosions and CGI-laden effects in The Winter Soldier. On Blu-ray the scenes are crisp and sharp, featuring Captain America fighting on elevators and running through doors and walls while chasing foes. The stunt work has become a hallmark of Marvel films and thanks to the extended minor cast in The Winter Soldier, audiences can root for a variety of different fighting styles inside a much larger film. Even Nick Fury (Samuel L. Jackson) gets a chase sequence, and that is something to celebrate. The different action styles are a reminder of why HD picture is so important with a film like The Winter Soldier, adding a reason to catch the film on Blu-ray.
You can order Captain America: The Winter Soldier over at Amazon.
Best Special Feature: Extras have become less and less of a novelty over the past several years, and Disney and Marvel Captain America: The Winter Soldier set doesn't offer any particular flair. However, there are a few extras fans might want to check out, including a few deleted scenes and a gag reel that features a bunch of bleeped out curses for its many characters in order to keep the set in the PG-13 realm. There's one section of the gag reel featuring a serious scene with Captain America where Evans totally flubs with his shield that's pretty amusing. Give it a watch.
Other Extras:
"On the Front: An Inside Look At Captain America's Battlegrounds"
"On Set with Anthony Mackie: Cut the Check!"
"Steve Rogers' Notebook"
Deleted and Extended Scenes (with Audio Commentary)
Commentary with Directors Anthony & Joe Russo and Screenwriters Christopher Markus & Stephen McFeely
Stark Trek: The Compendium Blu-ray
Paramount's Star Trek: The Compendium set is really for the biggest of the biggest fans of Director J.J. Abrams' Star Trek films. The disc boast Star Trek and Star Trek into Darkness, as well as a slew of bonus features, some of which are brand spanking new.
The box art is pretty, but not super expensive, and the four discs all boast extras, as well as the two movies. Star Trek into Darkness even comes in an IMAX version, which filled the whole screen on my widescreen television for chunks of the film. This makes the fight scenes look a lot better than previous Blu-ray releases. Still, if you already own Star Trek and Star Trek and Star Trek into Darkness, is it worth it to purchase The Compendium? Maybe.
The set comes with over four hours of bonus features, with new "Behind-the-scenes" featurettes and a rather unimpressive gag reel as the only technically new additions to the Star Trek Into Darkness set. However, some of the extras available with The Compendium, like the Enhanced Commentary for Star Trek Into Darkness, were relegated to particular outlets, like Best Buy and Target (in the commentary's case, iTunes). If you do already own the movies in singular form but you are a huge Star Trek fan, it's likely that you'll find plenty that is new on the disc and fun to play around with. Keep in mind, though, that the extras are overwhelming and make up the bulk of the release. If you aren't a huge fan who wants to bask in all of the tiny details on the set, The Compendium is definitely not for you.
You can order Star Trek: The Compendium over at Amazon.
Best Special Feature: The enhanced commentary track coming with Star Trek into Darkness is pretty cool. It allows you to watch the movie and pauses and rewinds scenes to show fans various visuals and explain how scenes were accomplished, as well as occasionally uses picture-in-picture to explain scenes. It's lengthy but jam-packed with information, including how, when and where scenes were shot and how they looked before VFX.
Other Extras:
Star Trek Commentary
Star Trek "To Boldly Go"
Star Trek "Casting"
Star Trek "A New Vision"
Star Trek"Starships"
Star Trek "Aliens"
Star Trek "Planets"
Star Trek "Props and Costumes"
Star Trek "Ben Burtt and the Sounds of Star Trek"
Star Trek "Score"
Star Trek "Gen Roddenberry's Vision"
Star Trek Deleted Scenes with audio commentary
Star Trek Starfleet Vessel Simulator Star Trek Gag Reel Into Darkness "The Voyage Begins… Again"
Into Darkness "Creating the Red Planet"
Into Darkness "Introducing the Villain"
Into Darkness "Rebuilding the Enterprise"
Into Darkness "National Ignition Facility"
Into Darkness "Attack on Starfleet"
Into Darkness "Aliens Encountered"
Into Darkness "The Klingon Home World"
Into Darkness "The Enemy of My Enemy"
Into Darkness "Vengeance is Coming"
Into Darkness "Ship to Ship"
Into Darkness "Mr. Spock and Mr. Spock"
Into Darkness "Down with the Ship"
Into Darkness "Kirk and Spock"
Into Darkness "Brawl by the Bay"
Into Darkness "Continuing the Mission"
Into Darkness "Unlocking the Cut"
Into Darkness "The Sounds of Music and FX"
Into Darkness "Visual Affection"
Into Darkness "Safety First"
Into Darkness Deleted Scenes
Into Darkness Gag Reel
Into Darkness "Fitting the Future"
Into Darkness "Property of Startfleet"
Other September 9 Releases
This week continues the trend of studios releasing some oldie but goodie TV sets, as well as some of the network's latest shows on Blu-ray and DVD. With the fall TV schedule really starting to get hectic with premieres and returning shows over the next couple of weeks, it's no surprise that NBC, ABC, Showtime and The CW are all putting out sets this week, but it does make the buying a little more difficult.
You can check out more of this week's releases, below. Unless otherwise noted, sets are available on both Blu-ray and DVD.
Homeland: The Complete Third Season
Supernatural: The Complete Ninth Season
The Vampire Diaries: The Complete Fifth Season
Agents of S.H.I.E.L.D.: The Complete First Season
Hannibal: Season 2
Brick Mansions
Little House on the Prairie: Season 3 Blu-ray
Words and Pictures
The World Wars
Burning Blue DVD
A Long Way Down
Amazing Race & Top Chef superfan with a pinch of Disney fairy dust thrown in. If you've created a rom-com I've probably watched it.
Your Daily Blend of Entertainment News
Thank you for signing up to CinemaBlend. You will receive a verification email shortly.
There was a problem. Please refresh the page and try again.