Weekend Box Office - Avengers: Age of Ultron Crushes the Box Office, Settles for Second Highest Opening Ever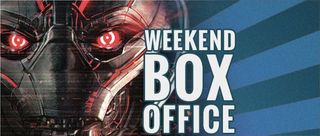 Avengers: Age of Ultron got the summer blockbuster ball rolling this weekend, bringing the same massive audience turn out that it has enjoyed around the world for the last week. But, as big as its launch was, there wasn't quite enough cash to top its predecessor.
Age of Ultron banked $187 million this weekend, the second largest domestic opening ever. The sequal missed the the mark set by Avengers in 2012 by $20 million. The question now is whether or not it will hold up in the long haul to out-gross the first Avengers flick and its $623 million domestic total and $1.5 billion international grand total.
Marvel Studios now holds the top three all-time biggest opening weekends. Avengers and Avengers: Age of Ultron hold the first and second place spots with $207 million and $187 million respectively while Iron Man 3 has third highest with its 2013 $174 million debut.
Everything else in theaters took an expected hit, dipping harder than usual by 55%-70% from last weekend under the weight of the super hero dynamo. The one exception was Cinderella which dropped only 15%, jumping back into the top ten on its eighth weekend in release.
For the full weekend top ten, check out the chart below:
1.
Avengers: Age of Ultron *

$187,656,000Total: $187,656,000LW: N
THTRS: 4,276
2.
The Age of Adaline

$6,250,000Total: $23,424,000LW: 3
THTRS: 2,991
3.
Furious 7

$6,114,000Total: $330,539,000LW: 1
THTRS: 3,305
4.

Paul Blart: Mall Cop 2
$5,550,000
Total: $51,186,000
LW: 2
THTRS: 3,548
5.
Home (2015)

$3,300,000Total: $158,132,000LW: 4
THTRS: 2,852
6.
Cinderella (2015)

$2,357,000Total: $193,651,000LW: 12
THTRS: 1,411
7.
Ex Machina

$2,231,000Total: $10,868,000LW: 6
THTRS: 1,279
8.
Unfriended

$1,988,000Total: $28,531,000LW: 5
THTRS: 2,221
9.
The Longest Ride

$1,700,000Total: $33,240,000LW: 7
THTRS: 2,115
10.

Woman in Gold
$1,681,000
Total: $24,588,000
LW: 10
THTRS: 1,126