Weekend Box Office: The Avengers Redefine Meaning Of Blockbuster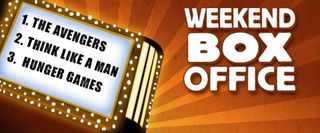 There might as well just have been a top one this weekend. The Avengers absolutely dominated the box office as it set about destroying records, enthralling audiences, and making Marvel's multi-hero franchise the envy of studios everywhere.
The rumblings of the movie's success began with heavy pre-sales over the last month and a strong international debut last weekend. Thursday midnight preview sales for Avengers marked the highest ever for a comic book flick (it was only the eighth highest overall... sorry comic book fans, you are still less obsessed than Harry Potter lovers and Twilight freaks).
And then the money started rolling in. Chief among the records shattered by Avengers is largest ever opening with $200.3 million, easily topping the $169 million banked by previous record holder Harry Potter and the Deathly Hallows Pt. 2. The movie also became the fastest movie to earn $100 million, $150 million and $200 million as well as breaking the highest one day take for a single Saturday with $69.7 million and Sunday with $50.1 million. With over $46,000 per theater, it also topped the record for most cash per screen. Add them all up and you have more records broken than main heroes in the movie.
Marvel Studios has a lot to cheer about after this weekend, but so does the movie's master craftsman, writer director Joss Whedon. Despite his major talent and massive fan following, he's never had the benefit of any of his work enjoying this level of popular and financial success. And now he's sky rocketed to the top of the world. Well done, Whedon!
Of course Marvel's success spelled major disaster for everything else in theaters. Not a single other movie even managed to break into double digit millions. Think Like A Man toppled to just $8 million. The Hunger Games, which is currently the highest grossing film of the year so far, is set to lose the title in the next few weeks to Avengers, but the $380 million it has earned to date is still an impressive achievement.
For the full top ten break down, check out the chart below:
1.

Marvel's The Avengers *
$200,300,000
Total: $200,300,000
LW: N WR: 1
THTRS: 4,349
2.

Think Like a Man
$8,000,000
Total: $73,029,000
LW: 1 WR: 3
THTRS: 2,010
3.

The Hunger Games
$5,700,000
Total: $380,727,000
LW: 3 WR: 7
THTRS: 2,794
4.

The Lucky One
$5,510,000
Total: $47,917,000
LW: 4 WR: 3
THTRS: 3,005
5.

The Pirates! Band of Misfits
$5,400,000
Total: $18,563,000
LW: 2 WR: 2
THTRS: 3,358
6.

The Five-Year Engagement
$5,100,000
Total: $19,200,000
LW: 5 WR: 2
THTRS: 2,941
7.

The Raven
$2,508,000
Total: $12,047,000
LW: 7 WR: 2
THTRS: 2,209
8.

Safe (2012)
$2,470,000
Total: $12,874,000
LW: 6 WR: 2
THTRS: 2,271
9.

Chimpanzee
$2,395,000
Total: $23,012,000
LW: 8 WR: 3
THTRS: 1,531
10.

The Three Stooges
$1,800,000
Total: $39,637,000
LW: 9 WR: 4
THTRS: 2,174
Your Daily Blend of Entertainment News
Thank you for signing up to CinemaBlend. You will receive a verification email shortly.
There was a problem. Please refresh the page and try again.