Weekend Box Office: Big Hero 6 Outperforms Interstellar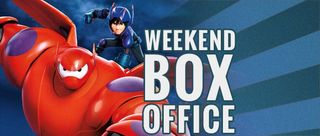 Christopher Nolan is a director whose name has become synonymous with big number one openings. His last five movies opened at number one two of those topped $150 million their opening weekend. But this weekend he had to settle for a close second place.
Big Hero 6 toppled Interstellar for a solid number one, banking $56 million, an impressive total for a non-sequel animated feature. Interstellar earned slightly less with $50 million. That's not terrible, but a bit lower than expected for Nolan whose other recent non-Dark Knight offering, Inception, opened with $62 million.
Gone Girl and St. Vincent have managed to stay afloat in the top ten for longer than usual. Gone Girl moved back up from fourth to third on this its sixth weekend of release, adding $6 million to its $145 million domestic total. St. Vincent bumped but to fifth from seventh place.
Stephen Hawking biopic The Theory of Everything debuted at just five venues, banking over $40,000 per location, the largest this weekend.
For the full weekend break down, check out the chart below:
1.
Big Hero 6 *

$56,200,000Total: $56,200,000LW: N
THTRS: 3,761
2.
Interstellar *

$50,000,000Total: $52,151,000LW: N
THTRS: 3,561
3.
Gone Girl

$6,100,000Total: $145,428,000LW: 4
THTRS: 2,224
4.
Ouija

$6,017,000Total: $43,472,000LW: 1
THTRS: 2,680
5.
St. Vincent

$5,707,000Total: $27,356,000LW: 7
THTRS: 2,455
6.
Nightcrawler

$5,512,000Total: $19,756,000LW: 2
THTRS: 2,766
7.
Fury (2014)

$5,500,000Total: $69,268,000LW: 3
THTRS: 2,834
8.
John Wick

$4,075,000Total: $34,745,000LW: 6
THTRS: 2,152
9.
Alexander and the Terrible, Horrible, No Good, Very Bad Day

$3,495,000Total: $59,208,000LW: 8
THTRS: 2,381
10.
The Book of Life (2014)

$2,800,000Total: $45,215,000LW: 5
THTRS: 2,166
Your Daily Blend of Entertainment News
Thank you for signing up to CinemaBlend. You will receive a verification email shortly.
There was a problem. Please refresh the page and try again.