Weekend Box Office - No Cheap Date For Fey And Carell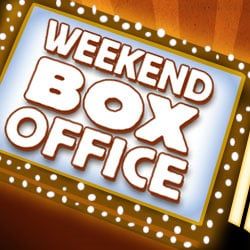 Tina Fey and Steve Carell made a splash onto the big screen together for the first time this weekend, taking Date Night to a moderate first place opening. Having the two major comedic personalities in a single film might suggest the chance to double the success, but that wasn't the case at the box office.
The $27.1 million debut was below average for a Carell headlined film and while it was the highest ever opening for Fey, it only just topped the $24 million first weekend of Mean Girls in 2004. Date Night just edged out last week's number one Clash of the Titans which dropped almost 60% from last weekend to $26.8 million, bringing its domestic total to $110 million. With another $45 million from international screenings the movie is set to recover its $125 million budget.
How To Train Your Dragon held on strong yet again, dropping only 10% from last weekend. At third place it has $133 million in US sales and over $255 with international sales rolled in. That's not bad for the first major animated movie of the year, but it's not going to be enough to compete with major sequels in the Toy Story and Shrek franchises arriving this summer.
Small release Letters To God snuck in at tenth place with $1.2 million. The spiritual inspirational drama made only a small debut but doesn't have much further to go to overtake its minimal $3 million budget.
For the full weekend top ten check out the chart below:
1.

Date Night *
$27,100,000 -
Total: $27,100,000
LW: N WR: 1
THTRS: 3,374
2.

Clash of the Titans (2010)
$26,875,000 -
Total: $110,468,000
LW: 1 WR: 2
THTRS: 3,802
3.

How to Train Your Dragon
$25,350,000 -
Total: $133,891,000
LW: 3 WR: 3
THTRS: 4,007
4.

Tyler Perry's Why Did I Get Married Too?
$11,000,000 -
Total: $48,520,000
LW: 2 WR: 2
THTRS: 2,155
5.

The Last Song
$10,000,000 -
Total: $42,400,000
LW: 4 WR: 2
THTRS: 2,674
6.

Alice in Wonderland (2010)
$5,600,000 -
Total: $319,300,000
LW: 5 WR: 6
THTRS: 2,530
7.

Hot Tub Time Machine
$5,430,000 -
Total: $36,969,000
LW: 6 WR: 3
THTRS: 2,611
8.

The Bounty Hunter
$4,300,000 -
Total: $56,001,000
LW: 7 WR: 4
THTRS: 2,901
9.

Diary of a Wimpy Kid
$4,100,000 -
Total: $53,756,000
LW: 8 WR: 4
THTRS: 2,453
10.

Letters to God *
$1,250,000 -
Total: $1,250,000
LW: N WR: 1
THTRS: 897
Your Daily Blend of Entertainment News
Thank you for signing up to CinemaBlend. You will receive a verification email shortly.
There was a problem. Please refresh the page and try again.