Weekend Box Office: Expendables Implode As Ninja Turtles Hold Number One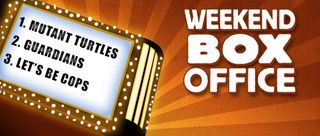 The new competition this weekend was no competition at all, leaving the box office to begin sloughing through its slow, steady chain of mostly sleepy stuff that fills in the gap between the end of summer and the beginning of the holiday bonanza.
Let's Be Cops was the highest grossing newcomer, but only managed a distant third place with $17 million. From a cash flow stand point it's not bad for a movie made on a $17 million budget. It's also not bad for a movie that took two funny actors and generally tried to figure out how unfunny they could be made to look.
The latest in a series of withering franchises to hit theaters this summer, The Expendables tanked hard as its third installment made just $16 million, little more than half of the $28 million its predecessor made when it debuted and well behind the $34 million the original movie earned its opening weekend. Fortunately for the movie's aging action cast, the movies have done increasingly well in foreign markets, a fact that may secure the franchise for another couple of films.
Despite an award winning cast pedigree, fantasy flick The Giver languished in fifth place with just $12 million. The failure could be due to limited marketing or word of mouth that it's not true enough to its award winning source material. Whatever the reasons, it's not on the fast track to either critical or financial success despite having just $25 million in production costs to overcome.
Teenage Mutant Ninja Turtles dropped almost 60% from last weekend, but held the number one spot, adding $28 million to its domestic total and crossing the $100 million mark. Guardians of the Galaxy held on to second place, adding $24 million and passing the $200 million threshold. At this rate it's on track to move past $250 million and topple Transformers 4 to become the third highest grossing movie of the year to date.
Speaking of Transformers 4, the movie is settling in at about $245 million domestically, the lowest in the franchise. However, at over $800 million in foreign sales it is the most successful of the franchise movies abroad. At $1.05 billion so far world wide it's on track to edge past Transformers: Dark of the Moon's top international total of $1.1 billion.
For the full weekend top ten, check out the chart below:
1.
Teenage Mutant Ninja Turtles (2014)

$28,400,000Total: $117,642,000LW: 1
THTRS: 3,980
2.
Guardians of the Galaxy

$24,735,000Total: $222,281,000LW: 2
THTRS: 3,697
3.
Let's Be Cops *

$17,700,000Total: $26,107,000LW: N
THTRS: 3,094
4.
The Expendables 3 *

$16,200,000Total: $16,200,000LW: N
THTRS: 3,221
5.

The Giver *
$12,760,000
Total: $12,760,000
LW: N
THTRS: 3,003
6.
Into The Storm

$7,720,000Total: $31,341,000LW: 3
THTRS: 3,434
7.

The Hundred-Foot Journey
$7,109,000
Total: $23,619,000
LW: 4
THTRS: 2,043
8.
Lucy

$5,317,000Total: $107,537,000LW: 5
THTRS: 2,520
9.

Step Up All In
$2,700,000
Total: $11,849,000
LW: 6
THTRS: 2,072
10.

Boyhood
$2,150,000
Total: $13,801,000
LW: 13
THTRS: 771
Your Daily Blend of Entertainment News
Thank you for signing up to CinemaBlend. You will receive a verification email shortly.
There was a problem. Please refresh the page and try again.