Weekend Box Office: Furious 7 Takes Second Victory Lap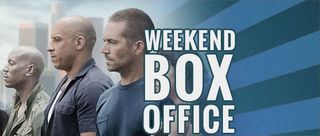 The box office settled in for the April calm before the comes-a-little-earlier-every-year summer blockbuster storm. One new release made a quiet debut while last weekend's top gun held the number one spot.
Furious 7 took a hard but not unexpected drop, slipping almost 60% from its franchise record high opening last weekend. Cruising easily past the $200 million mark, adding $60 million to its now $252 million domestic total, the movie surpassed Cinderella and Fifty Shades of Grey to be the current front runner for highest grossing movie of 2015.
The action flick also had a great weekend around the world. With $548 million internationally the movie capped $800 million globally, enjoying the highest ever opening day in the growing Chinese market.
The latest Nicholas Sparks adaptation The Longest Ride opened in third with $13 million. That's not an exceptional total but not bad for a Sparks flick and certainly better than it would have done if thrown in the midst of the summer's big hitters.
For the full weekend top ten, check out the chart below:
1.
Furious 7

$60,591,000Total: $252,522,000LW: 1
THTRS: 4,022
2.
Home (2015)

$19,000,000Total: $129,554,000LW: 2
THTRS: 3,703
3.
The Longest Ride *

$13,500,000Total: $13,500,000LW: N
THTRS: 3,366
4.
Get Hard

$8,635,000Total: $71,201,000LW: 3
THTRS: 3,132
5.
Cinderella (2015)

$7,225,000Total: $180,773,000LW: 4
THTRS: 3,025
6.
The Divergent Series: Insurgent

$6,850,000Total: $114,848,000LW: 5
THTRS: 3,111
7.

Woman in Gold
$5,852,000
Total: $9,303,000
LW: 7
THTRS: 1,504
8.
It Follows

$2,027,000Total: $11,798,000LW: 6
THTRS: 1,633
9.

Danny Collins
$1,600,000
Total: $2,497,000
LW: 17
THTRS: 739
10.
While We're Young

$1,377,000Total: $2,355,000LW: 14
THTRS: 246