Weekend Box Office: Gravity Pulls In A Record October Number One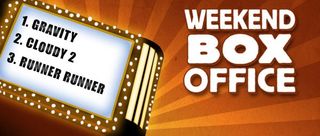 It was a record breaking weekend for the month of October as Gravity hauled in an impressive $55 million opening, topping Paranormal Activity's $52 million debut in 2011. The movie also marks the biggest opening for either George Clooney or Sandra Bullock and is a big score for under-recognized director and co-writer Alfonso Cuaron who has finally received both critical and financial acclaim for something other than what was arguably the best of the Harry Potter films.
As if to balance out Gravity's incredible success, Runner Runner was more like Crawler Crawler. The thriller, starring big names like Ben Affleck and Justin Timberlake, slumped into domestic theaters to the tune of just $7 million for a distant third place behind last week's number one Cloudy With A Chance of Meatballs 2. Stronger international sales for Runner are likely to help keep the movie's head above the red line, but just barely.
The third newcomver to hit the top ten this weekend was obscure romantic comedy Pulling Strings. Showing in less than 400 venues it still managed $6,460 per location for a ninth place $2.5 million opening. That was slightly better than the only slightly less obscure Grace Unplugged which drew in just over $1 million in more than 500 theaters, opening in the 15th spot.
Fox indie comedy, and the first of two James Gandolfini films that will be released after his passing earlier this year, Enough Said has been on a slow burn in small release for the last two weekends, and this weekend it expanded to over 400 screens, banking $2.5 million, enough to edge into the tenth place spot.
For the full weekend top ten, check out the chart below:
1.
Gravity *

$55,550,000Total: $55,550,000LW: N
THTRS: 3,575
2.
Cloudy with a Chance of Meatballs 2

$21,500,000Total: $60,557,000LW: 1
THTRS: 4,001
3.
Runner Runner *

$7,600,000Total: $7,600,000LW: N
THTRS: 3,026
4.
Prisoners

$5,700,000Total: $47,880,000LW: 2
THTRS: 3,236
5.
Rush (2013)

$4,408,000Total: $18,095,000LW: 3
THTRS: 2,308
6.
Don Jon

$4,160,000Total: $16,077,000LW: 5
THTRS: 2,422
7.
Baggage Claim

$4,125,000Total: $15,185,000LW: 4
THTRS: 2,230
8.
Insidious Chapter 2

$3,876,000Total: $74,750,000LW: 6
THTRS: 2,607
9.

Pulling Strings *
$2,500,000
Total: $2,500,000
LW: N
THTRS: 387
10.

Enough Said
$2,150,000
Total: $5,387,000
LW: 11
THTRS: 437
Your Daily Blend of Entertainment News
Thank you for signing up to CinemaBlend. You will receive a verification email shortly.
There was a problem. Please refresh the page and try again.