Weekend Box Office: I Frankenstein Falls To Pieces, Ride Along Cruises To Repeat Top Spot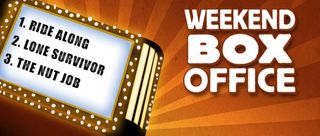 There wasn't much movement at the box office this weekend. Last weekend's first through third place flicks, Ride Along, Lone Survivor and The Nut Job, respectively, all held their spots.
Ride Along added $21 million to its now $75 million total, further pushing the movie into high profitability brackets and promising a sequel. Of course, part of what made this movie a financial success was its modest $25 million budget. If a sequel can be made that cheaply (doubtful as everyone involved will no doubt demand higher salaries and bigger budgets) then the franchise might even see third and fourth entries assuming audiences don't catch on to the fact that they've seen this sort of thing done before, and done better.
The one newcomer this weekend, I, Frankenstein, couldn't generate enough electricity to bring a Frankenstein monster to life, much less draw in audiences. The bizarre action/horror entry crashed in at sixth place with just $8 million against its $65 million production budget.
That makes two large box office bombs this year, and it's not even Februrary yet. The Legend of Hercules, even though it's only three weekends old, has already dropped to 19th place and has only earned $18 million world-wide against its $70+ million budget.
For the full weekend top ten, check out the chart below:
1.
Ride Along

$21,162,000Total: $75,407,000LW: 1
THTRS: 2,759
2.
Lone Survivor

$12,601,000Total: $93,615,000LW: 2
THTRS: 3,162
3.
The Nut Job

$12,316,000Total: $40,271,000LW: 3
THTRS: 3,472
4.
Frozen

$9,035,000Total: $347,816,000LW: 5
THTRS: 2,757
5.
Jack Ryan: Shadow Recruit

$8,800,000Total: $30,168,000LW: 4
THTRS: 3,387
6.
I, Frankenstein *

$8,275,000Total: $8,275,000LW: N
THTRS: 2,753
7.
American Hustle

$7,100,000Total: $127,039,000LW: 6
THTRS: 2,304
8.
August: Osage County

$5,041,000Total: $26,527,000LW: 8
THTRS: 2,411
9.
The Wolf of Wall Street

$5,000,000Total: $98,030,000LW: 9
THTRS: 1,804
10.

Devil's Due
$2,750,000
Total: $12,886,000
LW: 7
THTRS: 2,544
Your Daily Blend of Entertainment News
Thank you for signing up to CinemaBlend. You will receive a verification email shortly.
There was a problem. Please refresh the page and try again.