Weekend Box Office: Ice Age 4 Drifts Into First Place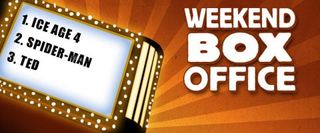 Despite the fact that the ten year-old series has become increasingly boring to watch, the Ice Age franchise proved this weekend it can still draw an audience.
Ice Age: Continental Drift, the fourth movie to bear the name, opened at number one with $46 million. That's a step up from the $41 million the previous entry Ice Age: Dawn of the Dinosaurs made on its opening weekend in July 2009 but well short of the top franchise opening of $68 million banked by Ice Age: The Meltdown second in the series.
$200 million was the magic number for several movies this weekend. The Amazing Spider-Man dropped to second place this weekend after a solid number one opening last week, but added another $35 million to just top $200 million. Now in its sixth weekend, Madagascar 3: Europe's Most Wanted was also finally in the $200 million range. Pixar's Brave fell just short of hitting that $200 million mark this weekend. Adding $10 million for fourth place on its fourth weekend, it just topped $195 million in total U.S. sales.
But now all eyes at the box office are looking ahead to next weekend's release of The Dark Knight Rises. While its anticipated financial success as a box office onslaught is undeniable, the question is whether or not it can top this summer's record breaking juggernaut The Avengers, or indeed, even the massive success of its predecessor The Dark Knight.
For the full weekend top ten, check out the chart below:
1.

Ice Age: Continental Drift *
$46,000,000
Total: $46,000,000
LW: N WR: 1
THTRS: 3,881
2.

The Amazing Spider-Man
$35,000,000
Total: $200,900,000
LW: 1 WR: 2
THTRS: 4,318
3.

Ted
$22,147,000
Total: $158,993,000
LW: 2 WR: 3
THTRS: 3,303
4.

Brave
$10,695,000
Total: $195,596,000
LW: 3 WR: 4
THTRS: 3,392
5.

Magic Mike
$9,030,000
Total: $91,850,000
LW: 5 WR: 3
THTRS: 3,090
6.

Savages (2012)
$8,735,000
Total: $31,466,000
LW: 4 WR: 2
THTRS: 2,635
7.

Tyler Perry's Madea's Witness Protection
$5,600,000
Total: $55,628,000
LW: 6 WR: 3
THTRS: 2,004
8.

Katy Perry: Part of Me
$3,735,000
Total: $18,588,000
LW: 8 WR: 2
THTRS: 2,732
9.

Moonrise Kingdom
$3,662,000
Total: $32,427,000
LW: 9 WR: 8
THTRS: 924
10.

Madagascar 3: Europe's Most Wanted
$3,500,000
Total: $203,732,000
LW: 7 WR: 6
THTRS: 2,285
Your Daily Blend of Entertainment News
Thank you for signing up to CinemaBlend. You will receive a verification email shortly.
There was a problem. Please refresh the page and try again.