Weekend Box Office: Jurassic World Threepeats At Number One, Ted 2 Gets Less Warm and Fuzzy Welcome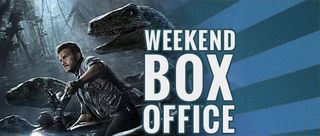 Jurassic World pulled a three-peat at number one this weekend, continuing its run of banking more money faster than any other previous movie. That pace is in no small part to its popularity in the more expensive 3D venues, giving some new energy to the trend of pushing for wider and wider 3D releases.
The dino-sequel barely hit the $500 million mark in domestic sales, becoming the fastest movie to hit that mark. It is now the fifth highest grossing movie in history, just one week away from besting The Dark Knight and its $534 million fourth place spot. The question now is whether or not it can push all the way to topple second place Titanic and its $658 million gross and, less likely, Avatar's monstrous $760 million record.
Ted 2 struggled to draw an audience as big as its predecessor, its $33 million debut falling well short of the original Ted's $54 million opening three years ago. Meanwhile family inspirational flick Max took a distant fourth place with $12 million.
Pixar's Inside Out held onto second place, adding $52 million to its $184 million domestic total. It's on track to become one of Pixar's top five grossing movies, perhaps even breaking into the top three.
For the full weekend top ten, check out the chart below:
1.
Jurassic World

$54,200,000Total: $500,100,000LW: 1
THTRS: 4,198
2.
Inside Out

$52,128,000Total: $184,945,000LW: 2
THTRS: 4,132
3.
Ted 2 *

$33,000,000Total: $33,000,000LW: N
THTRS: 3,442
4.
Max (2015) *

$12,210,000Total: $12,210,000LW: N
THTRS: 2,855
5.
Spy

$7,800,000Total: $88,351,000LW: 3
THTRS: 3,194
6.
San Andreas

$5,275,000Total: $141,871,000LW: 4
THTRS: 2,620
7.
Dope

$2,862,000Total: $11,776,000LW: 5
THTRS: 1,851
8.
Insidious Chapter 3

$2,025,000Total: $49,816,000LW: 6
THTRS: 1,612
9.
Mad Max: Fury Road

$1,735,000Total: $147,078,000LW: 8
THTRS: 961
10.
Avengers: Age of Ultron

$1,643,000Total: $452,428,000LW: 9
THTRS: 1,097
Your Daily Blend of Entertainment News
Thank you for signing up to CinemaBlend. You will receive a verification email shortly.
There was a problem. Please refresh the page and try again.