Weekend Box Office - Kick-Ass Does Anything But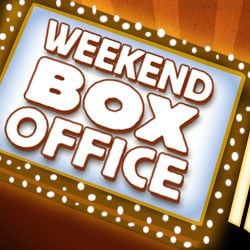 UPDATE: The final numbers are in, and with $19.8 million to Dragon's $19.6 million, Kick-Ass is #1 for the weekend after all. Read more about it here.
Kick-Ass did anything but at the box office this weekend, banking only $19 million for a second place debut. With an unquestioned 'R' rating the film's shameless dive into gleefully gratuitous violence wasn't expected to make a lot of cash, but the fact that it couldn't break the $20 million didn't leave anyone at Lions Gate doing back flips.
In fact, the new entry couldn't even top four-weekend-old How To Train Your Dragon. The CG animated adventure soared back into the box office's top spot this weekend with just $20 million, the lowest number one total of the year so far.
The good news this weekend was the poor performance in the remake sector. The new take on Death At A Funeral took in only $17 million for fourth place. Meanwhile Clash of the Titans, which had been sitting at the number one spot for two weeks, dropped all the way to fifth place with $15 million.
Not that either movie is hurting for cash. Titans is already well in the black with $321 million world-wide against its $125 million budget and after only three days in theaters Death at a Funeral is only a few million short of matching it's modest $21 million budget.
For the full weekend top ten check out the chart below:
1.

How to Train Your Dragon
$20,000,000 -
Total: $158,618,000
LW: 3 WR: 4
THTRS: 3,825
2.

Kick-Ass *
$19,750,000 -
Total: $19,750,000
LW: N WR: 1
THTRS: 3,065
3.

Date Night
$17,300,000 -
Total: $49,246,000
LW: 2 WR: 2
THTRS: 3,380
4.

Death at a Funeral (2010) *
$17,000,000 -
Total: $17,000,000
LW: N WR: 1
THTRS: 2,459
5.

Clash of the Titans (2010)
$15,770,000 -
Total: $132,985,000
LW: 1 WR: 3
THTRS: 3,753
6.

The Last Song
$5,800,000 -
Total: $50,000,000
LW: 5 WR: 3
THTRS: 2,767
7.

Tyler Perry's Why Did I Get Married Too?
$4,180,000 -
Total: $54,880,000
LW: 4 WR: 3
THTRS: 1,859
8.

Hot Tub Time Machine
$3,545,000 -
Total: $42,505,000
LW: 6 WR: 4
THTRS: 2,308
9.

Alice in Wonderland (2010)
$3,500,000 -
Total: $324,000,000
LW: 7 WR: 7
THTRS: 2,024
10.

The Bounty Hunter
$3,200,000 -
Total: $60,378,000
LW: 8 WR: 5
THTRS: 2,475
Your Daily Blend of Entertainment News
Thank you for signing up to CinemaBlend. You will receive a verification email shortly.
There was a problem. Please refresh the page and try again.