Weekend Box Office: Kung Fu Panda Tops Coens, Zombies and Nicholas Sparks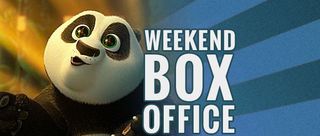 Coen brothers, Nicholas Sparks and zombies couldn't stand up to the Dragon Warrior and his panda compatriots this weekend as Kung Fu Panda 3 held the top spot for a second weekend in a row.
The third Kung Fu Panda entry in the franchise added $21 million to its now $69 million total. The two previous panda movies were already near or past $100 million by this same point in release, leaving the third lagging well behind. But by this point in the franchise's life the movie could completely tank but still turn a profit for Dreamworks thanks to the massively successful merchandising machine.
The latest offering from the Coens, Hail, Caesar! got a lukewarm reception. With a second place $11 million start it's the lowest ever wide release opening for the brothers and that despite the presence of several big names on the marquee. It wasn't the only box office disappointment. The Choice bowed in at fifth place with just $6 million making it the first ever Nicholas Sparks adaptation to debut under $10 million.
There seemed to have been a huge amount of anticipation for Pride and Prejudice and Zombies, but it proved to be more passing curiosity that genuine excitement at the box office. Apparently there wasn't enough zombies to draw the Walking Dead crowd and too much zombies for the Austen crowd as it banked just $5 million for a weak sixth place start.
Star Wars: The Force Awakens has been slowing down the last few weeks, but managed to cross two important landmarks this weekend. It passed the $900 million mark domestically and the $2 billion mark this weekend. While it has locked in the domestic record, and is only one of three movies to pass $2 billion world-wide, it's going to fall short of Avatar's $2.7 billion record and will struggle to top Titanic's $2.18 billion total.
For the full weekend top ten, check out the chart below:
1.
Kung Fu Panda 3

$21,000,000Total: $69,050,957LW: 1
THTRS: 3,987
2.
Hail, Caesar! *

$11,440,000Total: $11,440,000LW: N
THTRS: 2,232
3.
The Revenant

$7,100,000Total: $149,703,403LW: 2
THTRS: 3,018
4.
Star Wars: The Force Awakens

$6,890,000Total: $905,961,469LW: 3
THTRS: 2,262
5.
The Choice *

$6,085,000Total: $6,085,000LW: N
THTRS: 2,631
6.
Pride and Prejudice and Zombies *

$5,200,000Total: $5,200,000LW: N
THTRS: 2,931
7.
The Finest Hours

$4,715,000Total: $18,380,660LW: 4
THTRS: 3,143
8.
Ride Along 2

$4,520,000Total: $77,206,830LW: 5
THTRS: 2,172
9.
The Boy (2016)

$4,098,000Total: $26,895,684LW: 7
THTRS: 2,214
10.
Dirty Grandpa

$4,050,000Total: $29,389,753LW: 6
THTRS: 2,567
Your Daily Blend of Entertainment News
Thank you for signing up to CinemaBlend. You will receive a verification email shortly.
There was a problem. Please refresh the page and try again.