Weekend Box Office: Minions Dominate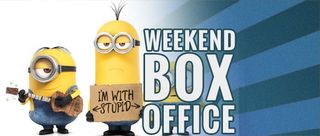 When Despicable Me arrived in theaters in 2010, no one would have guessed that its funny little yellow sidekick characters would go on to land their own movie or that the movie would have the second highest animated opening ever.
Minions opened at a massive number one with $115 million, topping all other animated openings except 2007's Shrek the Third and its $121 million start.
That's notably higher than Inside Out's $90 million debut last month, but the question now is whether or not Minions can keep up in the long run. Inside Out dropped to third place this weekend but at $283 million it's on par to end up in the year's top five grossing movies.
Jurassic World continued its incredible climb, stopping just short of the $600 million mark this weekend. At $590 it's the fourth highest domestic grossing movie of all time, inching closer to Marvel's The Avengers' $623 million third place total.
Three other new movies arrived this weekend, but were unable to cobble $20 million between them. Horror flick The Gallows bowed in fifth place with $10 million. Ryan Reynold's latest effort, thriller Self/Less only banked $5 million for a weak eighth place. Ninth place went to Baahubali: The Beginning, an Indian movie now getting a release in the US. Its $3 million domestic debut sounds small, but in perspective with its small 236 venue release, its $15,000 per screen total is second only this weekend to Minions' $26,000 per screen total.
For the full weekend total, check out the chart below:
1.
Minions *

$115,200,000Total: $115,200,000LW: N
THTRS: 4,301
2.
Jurassic World

$18,100,000Total: $590,638,000LW: 2
THTRS: 3,441
3.
Inside Out

$17,108,000Total: $283,638,000LW: 1
THTRS: 3,644
4.
Terminator: Genisys

$13,700,000Total: $68,718,000LW: 3
THTRS: 3,783
5.

The Gallows *
$10,015,000
Total: $10,015,000
LW: N
THTRS: 2,720
6.
Magic Mike XXL

$9,640,000Total: $48,359,000LW: 4
THTRS: 3,376
7.
Ted 2

$5,600,000Total: $71,619,000LW: 5
THTRS: 2,171
8.

Self/Less *
$5,379,000
Total: $5,379,000
LW: N
THTRS: 2,353
9.

Baahubali: The Beginning *
$3,575,000
Total: $3,575,000
LW: N
THTRS: 236
10.
Max (2015)

$3,420,000Total: $33,705,000LW: 6
THTRS: 2,088
Your Daily Blend of Entertainment News
Thank you for signing up to CinemaBlend. You will receive a verification email shortly.
There was a problem. Please refresh the page and try again.