5 Ways Despicable Me Has Been A Game-Changer For Animated Movies Over The Last Decade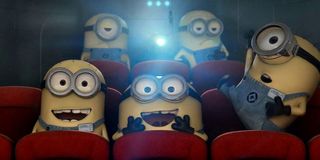 Earlier this month, Despicable Me celebrated its tenth birthday. It's hard to believe that a whole decade has passed since Illumination's first feature-length animated movie made its way into theaters, but it's safe to say that the studio's brand has been ubiquitous with pop culture these past 10 years. Once an unlikely success, Despicable Me fostered a company that produces some of the most profitable movies — animated or otherwise — of our modern times. It has also resulted in many, many, many Minions sightings.
It hasn't seemed that long since the Steve Carell-led movie made its way into theaters, but it has certainly remodeled animation as we see it today. Here are some key ways in which animation has changed since 2010.
It Proved You Could Make A Flashy Animated Movie With A Relatively Low Budget, Quick Production, And Big Returns
When it came to major animation studios like Pixar and DreamWorks Animation, there was an influx of high-budget productions, notably starting in the mid-'00s, that went well above $100 million. For Pixar, every production from Ratatouille onward to, well, Onward has cost between $150 to $200 million (and that's not including marketing materials). Likewise, DreamWorks Animation (which Illumination at least somewhat emulated in their business model) has primarily made movies around $130 to $175 million since 2006. With the exception of some 2D animated features, nearly every Disney animated movie has cost anywhere between $100 to $260 million. Entirely CG-animated features certainly aren't cheap to create, though Illumination proved you can do it for a fraction of the cost.
Despicable Me cost $69 million to make, which isn't necessarily "small budget" but it's considerably cheaper compared to its contemporaries. Since then, even as their profile rises, Illumination keeps their budgets within the $63 to $80 million range. Their emphasis on marketing results in the brand's heavy, sometimes obnoxious promotional materials, but it's hard to argue with the results.
Only one Illumination movie has underperformed since 2010. While the movies themselves aren't always praised, the studio knows how to make movies both cheaply and quickly, producing fast turnarounds and high profits. As a result, we've seen more animated movies made on tighter budgets with heavily marketing strategies. Last year, for instance, Abominable came out from DreamWorks Animation with a $75 million budget. Likewise, The Addams Family cost a mere $24 million.
They Smartly Market Their Movies To Their Core Demographics, Resulting In More Kid-Centric Animation Than Ever Before
While one could argue about the quality (or perhaps lack thereof) of Illumination's output, the studio rakes in a lot of money. As noted before, this is the result of clever, inspired marketing tactics, with the company spending as much time and effort promoting their movies as they do making them. When it comes to the teasers, TV spots, and other trailers and promotions for Despicable Me and Minions, for instance, the ads have a Looney Tunes-esque short film quality that entertains the children and leaves them wanting more. It might seem simple, but it's ingenious in its approach. If you want to get kids to see your new animated movie, instead of simply showing them clips, get them endeared to the characters and their silly, childlike hijinks.
This approach has resulted in other studios making more cutesy, attention-grabbing movies and shows that smartly market their core concepts. One of the biggest recent examples is DreamWorks Animation's The Boss Baby, which combines the rambunctious, near-villainous antics that you might see in Despicable Me or Minions combined with the marketability of a big-eyed baby wearing an adorable little business suit. It seems simple, but it ultimately relies on the studio being smart with their materials and knowing who their target demographic is and how to appeal to them.
They're More Focused On Characters And Jokes Opposed To Strictly Narrative-Based
While this trend didn't start with Illumination, the animation company harkens back to an older age of animation — particularly older animated shorts from Disney and Warner Bros. — that focused more on characters, jokes, and set pieces opposed to strictly narrative-based. Every Illumination movie pays great attention to vignette-esque sequences that keep young audience members enticed and entertained throughout the course of their jubilant, bubbly runtimes.
While it doesn't result in the same rich, intricate plots as Pixar's finest films or Laika's well-crafted movies, these family films tend to be consistently amusing and enjoyably goofy, providing some high-energy bits of entertainment with just enough emotional undercurrents to win over audiences by the masses. The results aren't necessarily the most original movies or the most imaginative stories, but they can carry their own charm.
In an effort to capture this balance of fast-paced electricity, several animation movies seem to have borrowed from Illumination's template of focusing on jokes and characters with the same intensity as other studios might focus on their story and spectacle. Some recent examples that seemed at least partially inspired by Despicable Me's rapid success include Hotel Transylvania, The LEGO Movie, The LEGO Batman Movie, Storks, The Boss Baby, The Emoji Movie, and Illumination's own The Secret Life of Pets, which copy-and-pasted Toy Story's template but focused more on the cutesy day-to-day antics of household pets. The model doesn't guarantee success, but several of these movies found their audiences — and a few have seen great acclaim.
A Greater Insistence On Catchy Pop Songs In Movies
While one could argue the inclusion of pop songs in animated movies gained more prominence in the 2000s, notably with once chart-topping rock and pop songs informing Shrek's soundtrack and the title green ogre's irreverence to the classical fairy tale storytelling, Illumination's interest in capitalizing on their brand and their most marketable aspects came into play with Despicable Me 2's soundtrack. Pharrell Williams served as a musical consultant on the original Despicable Me, but we really saw the fruit of his labors in the sequel when his single, "Happy" soared to the top of the charts and earned him an Oscar nomination, as well as greater notoriety and fame. It was a win-win for the studio and the musician. The latter gained more exposure and listenership while the former only continued to find their audience.
Pop music was at the core of Illumination's 2016 animated feature, Sing and other studios were also bringing tunes to the forefront of their features. The vibrant infusion of poppy animation and pop songs played a big hand in creating DreamWorks Animation's Trolls and this year's Trolls World Tour. Inspired by the success of both Despicable Me and The LEGO Movie, the animation company found a way to bring back a once-popular toyline and incorporate the sugary, high-energy cotton candy sweetness of Illumination's brand and make one of their most financially successful new franchises, notably as the company struggled to find its footing in the 2010s, box office-wise, outside of a few major hits.
Creating earworm songs that get stuck in your head and get your booty shaking certainly isn't new, but Illumination found a way to make it work in their favor. It's easy to see how other animation studios can and will copy off their homework in this lucrative fashion.
The Influx Of Minions (And Studios Trying To Make Their Own Minions)
Whenever you think of Despicable Me (or even Illumination in general), the first thing that might come to mind is the minions, the plushy yellow ... err ... things that steal the show from Gru and his daughters. This isn't incidental. From their cutesy antics in the animation company's logo to their pop culture bombardment, from merchandise to memes, Illumination clearly followed the money, and they're not stopping until the gravy train reaches its final stop. The minions were the central focus of Despicable Me 2 and 3's promotional materials and received their solo short films, commercials, and more in the interim. Not only that, but they also got their own spin-off movie, 2015's Minions, which easily became one of the studio's biggest, most profitable box office successes.
From there, the message became clear: the minions aren't the sideshow anymore. They're the main attraction, and that's why they'll get another movie, Minions: The Rise of Gru, next year. This sequel bridges the gap between the Despicable Me trilogy and its spin-off prequel, which will likely prove to be another astronomical hit. Certainly, Hollywood took notice. While there have been Minion-like hits before, from Care Bears to Smurfs to Muppet Babies, this spin-off movie demonstrated the cultural dominance that these former supporting characters hold on pop culture when given the main stage.
We've already seen animated movies copying off its success. Most recently, Scoob! featured a bunch of tiny robot henchmen who were notably similar in size and design to the minions, with the villain, Wacky Races' Dick Dastardly, modeled more off Gru than his Hanna Barbara origins.
What do you think of Despicable Me's modern influence on animation? Let us know in the comment section!
Your Daily Blend of Entertainment News
Will is an entertainment writer based in Pittsburgh, PA. His writing can also be found in The Playlist, Cut Print Film, We Got This Covered, The Young Folks, Slate and other outlets. He also co-hosts the weekly film/TV podcast Cinemaholics with Jon Negroni and he likes to think he's a professional Garfield enthusiast.