Weekend Box Office: Remakes Rejected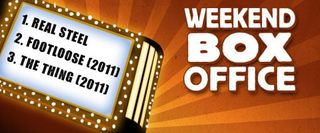 Remakes are Hollywood's way of trying to scrape together extra money without actually having to come up with many new ideas. So it's interesting to watch when Hollywood offers up not one, but two remakes on the same weekend, and audiences loudly proclaim with the cash from their wallets (or the witholding of said cash) that they're not interested in watching the past rehashed on the big screen.
The Footloose remake fared best, line-dancing its way to a sleepy $16 million, but was only hot enough to come in second place. Last weekend's top fighter Real Steel held on to its number one title by a narrow margin. The revisit to The Thing tanked hard, unable to scare up much more than $8 million, settling for a distant third place.
If you think those numbers are rough, consider the travesty that was opening weekend for Jack Black and Steve Martin's lukewarm comedy The Big Year. It was lucky to make ninth place with a no-laughing-matter opening of $3 million.
The only truly solid box office success story this weekend was Pedro Almodovar's limited release opening of The Skin I Live In. Opening in just 6 theaters it banked nearly $250,000 for a healthy $38,000+ per theater take (nearly matching the per theater opening numbers of record breaker Harry Potter and the Deathly Hallows Part 2.
For the full weekend update, check out the chart below:
1.

Real Steel
$16,304,000
Total: $51,744,000
LW: 1 WR: 2
THTRS: 3,440
2.

Footloose (2011) *
$16,100,000
Total: $16,100,000
LW: N WR: 1
THTRS: 3,549
3.

The Thing (2011) *
$8,700,000
Total: $8,700,000
LW: N WR: 1
THTRS: 2,996
4.

The Ides of March
$7,500,000
Total: $22,154,000
LW: 2 WR: 2
THTRS: 2,199
5.

Dolphin Tale
$6,345,000
Total: $58,672,000
LW: 3 WR: 4
THTRS: 3,286
6.

Moneyball
$5,500,000
Total: $57,712,000
LW: 4 WR: 4
THTRS: 2,840
7.

50/50
$4,315,000
Total: $24,334,000
LW: 5 WR: 3
THTRS: 2,391
8.

Courageous
$3,400,000
Total: $21,378,000
LW: 6 WR: 3
THTRS: 1,214
9.

The Big Year *
$3,325,000
Total: $3,325,000
LW: N WR: 1
THTRS: 2,150
10.

The Lion King (in 3D)
$2,708,000
Total: $90,452,000
LW: 7 WR: 5
THTRS: 1,970
Your Daily Blend of Entertainment News
Thank you for signing up to CinemaBlend. You will receive a verification email shortly.
There was a problem. Please refresh the page and try again.