Weekend Box Office: The Revenant Endures Long Enough To Be Number One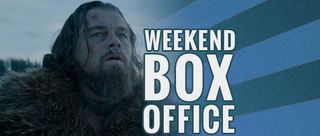 The Revenant finally had its day in the sun (or at least out of the cold) this weekend, holding out a little stronger than its major competition to land a weekend at number one.
More of a box office victory by attrition than any thing else, The Revenant got its gold sticker despite dropping almost 50% from last weekend to add just $16 million this weekend. But that was better than last weekend's top earner Ride Along 2 which dropped more than 60% from last weekend down to third place with $12 million. Star Wars: The Force Awakens managed to float up to second place, piling on another $14 million to its now $879 million high pile of box office gold.
Despite the song and dance shuffle, last weekend's top three held the top three leaving the newcomers, all of whom just barely managed to break into the double digit millions, to duke it out for fourth through sixth place.
Zac Efron and Robert DeNiro teamed up for Dirty Grandpa, but the bizarre excuse of a comedy only drew $11 million. You can blame the massive east coast blizzard for some of its under performance, but when a six week old Star Wars movie can best you, the problem isn't people being able to get to the theater. Dirty Grandpa edged out horror flick The Boy which also banked $11 million.
Someone apparently forgot to tell Sony that the dystopian sci-fi young adult novel adaptation train has not only left the station but has reached the end of the line and is waiting to be decommissioned. The studio's release of The 5th Wave made less in first weekend than a Hunger Games movie made in its first couple of hours. With a $10 million opening its a sure thing that no matter how many more books Yancey rights, there won't be movie sequels following.
For the full weekend top ten, check out the chart below:
1.
The Revenant

$16,000,000Total: $119,192,522LW: 2
THTRS: 3,711
2.
Star Wars: The Force Awakens

$14,257,000Total: $879,289,346LW: 3
THTRS: 3,365
3.
Ride Along 2

$12,960,000Total: $59,110,040LW: 1
THTRS: 3,192
4.
Dirty Grandpa *

$11,525,000Total: $11,525,000LW: N
THTRS: 2,912
5.
The Boy (2016) *

$11,260,000Total: $11,260,000LW: N
THTRS: 2,671
6.
The 5th Wave *

$10,700,000Total: $10,700,000LW: N
THTRS: 2,908
7.
13 Hours: The Secret Soldiers of Benghazi

$9,750,000Total: $33,483,429LW: 4
THTRS: 2,917
8.
Daddy's Home

$5,270,000Total: $138,780,265LW: 5
THTRS: 2,789
9.
Norm of the North

$4,100,000Total: $14,296,203LW: 6
THTRS: 2,411
10.
The Big Short

$3,500,000Total: $56,713,841LW: 8
THTRS: 1,351
Your Daily Blend of Entertainment News
Thank you for signing up to CinemaBlend. You will receive a verification email shortly.
There was a problem. Please refresh the page and try again.