Weekend Box Office: Valentines Weekend Sees Crappy Shades of Grey Top Quality Kingsman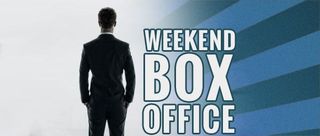 American audiences sometimes aren't the most discerning when it comes to appreciating quality movie-making. The promise of titillating sex or mid-school grade fart jokes tends to go a lot farther than great acting and enjoyable plots. The two new movies this weekend served to solidify the point.
As expected Fifty Shades of Grey was the top grosser this weekend, hauling in a hefty $81 million. In foreign markets the intrigue factor behind what turned out to be a painfully overhyped and underwhelming resulted in opening weekend records being broken in 11 countries and Universal pictures enjoying one of its largest world-wide openings ever. However, for the domestic market it was barely enough to make the fifth highest R-rated opening, just failing to outpace another movie made controversial in part for its use of whips, The Passion of the Christ.
Meanwhile, the far superior in every way (or so says pretty much every critic and audience rating system out there) Kingsman: The Secret Service languished in a distant second place with $35 million. Roll in the $40+ million from foreign screenings and the movie is doing alright against its $80 million production budget, but it would still have been nice to see the better movie actually do better at the box office.
American Sniper continues to hold strong, dropping just 30% from last week and adding $16 million, firing past the $300 million mark. Now only $30 million away from passing The Hunger Games: Mocking Jay - Part 1 as the highest grossing movie of 2014, its chances are still low of hitting that mark. However, if it continues to hold on as strongly as it has the last three weekends, dropping less than 30% per week, it may just pull it off.
For the full weekend top ten, check out the chart below:
1.
Fifty Shades of Grey *

$81,670,000Total: $81,670,000LW: N
THTRS: 3,646
2.
Kingsman: The Secret Service*

$35,600,000Total: $35,600,000LW: N
THTRS: 3,204
3.
The SpongeBob Movie: Sponge Out of Water

$30,540,000Total: $93,673,000LW: 1
THTRS: 3,654
4.
American Sniper

$16,435,000Total: $304,133,000LW: 2
THTRS: 3,436
5.
Jupiter Ascending

$9,430,000Total: $32,551,000LW: 3
THTRS: 3,181
6.
Seventh Son

$4,153,000Total: $13,423,000LW: 4
THTRS: 2,874
7.
Paddington

$4,150,000Total: $62,343,000LW: 6
THTRS: 2,244
8.
The Imitation Game

$3,525,000Total: $79,657,000LW: 8
THTRS: 1,551
9.
The Wedding Ringer

$3,400,000Total: $59,743,000LW: 7
THTRS: 1,456
10.
Project Almanac

$2,730,000Total: $19,560,000LW: 5
THTRS: 1,732
Your Daily Blend of Entertainment News
Thank you for signing up to CinemaBlend. You will receive a verification email shortly.
There was a problem. Please refresh the page and try again.