Weekend Box Office: The Wolverine Slashes Way To Number One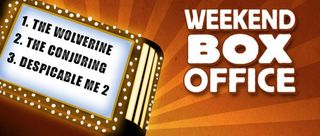 The character Wolverine has racked up quite the list of movie appearances in the last thirteen years, from key roles in the X-Men movies and now two solo ventures. The latest, The Wolverine, arrived in theaters this weekend, but audience response might be enough to show producers it's time to let the character return to being just another part of the mutant pack.
As the only major newcomer The Wolverine made a modest debut at number one with $55 million. With the $86 million in international sales the movie is in solid position to turn a profit, but the opening marks the weakest for any Wolverine flick to date. The only entry to open lower was the original X-Men, and while nominally outperforming it, when you put that movie's $50 million debut in 2000 into today's ticket prices, The Wolverine pales.
Even Hugh Jackman, who deserves major credit for the character's success, suggested back in June that this might be the last time he'll play the character in a solo movie. Good call. While the solo ventures won't be going out on a high note, at least they'd be going out with a profit.
Indie drama Fruitvale Station expanded to just over 1,000 theaters this weekend after two weeks in small release. It banked $4 million ($4,300 per location), enough to sneak into the top ten. Meanwhile raunch comedy The To-Do List debuted small in a little under 600 venues, taking in just $1.5 million ($2,600 per location).
For the full weekend top ten check out the chart below:
1.

The Wolverine *
$55,000,000
Total: $55,000,000
LW: N WR: 1
THTRS: 3,924
2.

The Conjuring
$22,130,000
Total: $83,867,000
LW: 1 WR: 2
THTRS: 3,022
3.

Despicable Me 2
$16,024,000
Total: $306,413,000
LW: 2 WR: 4
THTRS: 3,476
4.

Turbo
$13,325,000
Total: $55,768,000
LW: 3 WR: 2
THTRS: 3,809
5.

Grown Ups 2
$11,500,000
Total: $101,664,000
LW: 4 WR: 3
THTRS: 3,258
6.

Red 2
$9,400,000
Total: $35,074,000
LW: 5 WR: 2
THTRS: 3,016
7.

Pacific Rim
$7,540,000
Total: $84,026,000
LW: 6 WR: 3
THTRS: 2,602
8.

The Heat
$6,850,000
Total: $141,245,000
LW: 8 WR: 5
THTRS: 2,384
9.

R.I.P.D.
$5,857,000
Total: $24,352,000
LW: 7 WR: 2
THTRS: 2,850
10.

Fruitvale Station
$4,657,000
Total: $6,339,000
LW: 17 WR: 3
THTRS: 1,064
Your Daily Blend of Entertainment News
Thank you for signing up to CinemaBlend. You will receive a verification email shortly.
There was a problem. Please refresh the page and try again.