Wesley Snipes Teams Up With Chuck Norris For Martial Arts Comedy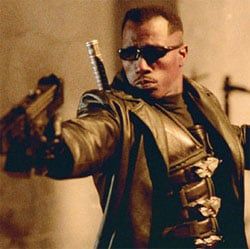 Thanks to The Expendables, aging action hero team-up movies are apparently the new, hot thing in Hollywood. Now it's Wesley Snipes' turn and he's signed on to star in a martial arts comedy called Master Daddy which will also feature, among others, the cowboy-booted kicks of Chuck Norris.
Snipes will also produce the movie through his media company and he tells Variety that it's a "multi-racial action comedy" and compares it to both Kung Fu Hustle and Meet the Parents. That this description makes no sense isn't a surprise, Wesley Snipes doing comedy doesn't make much sense either. There's never been any sign that the former Blade star has a sense of humor. That's part of why he was so good at playing the humorless, angry Blade. I guess he did do To Wong Foo, put a man in a skirt and suddenly he thinks he's a comedic actor.
In addition to Wesley Snipes and the Chuck Norris cameo, the movie will also include appearances from minor martial arts stars like Chiba, Frazier, Gracie, Hung, Inosanto, Jaa, Rhee, Kim, Lee Mosely, Bob Wall, Rampage, Anderson Silva and Ron Van Cleff.
UPDATE! Chuck Norris's management contacted us to let us know that despite Variety's claims to the contrary, Chuck Norris is not involved in this film. They were approached about it, but turned it down.
Your Daily Blend of Entertainment News