What Se7en And The Exorcist Would Look Like As Musicals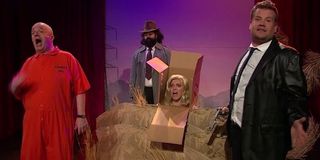 There might be some of you who are still on the fence about James Corden as the host of The Late Late Show. If you are, I can only imagine that's because you haven't actually watched him, because the affable Brit is absolutely killing it in his position. And any time he has a movie star guest they have recorded some stellar material. None more so than when Nathan Lane and Rachel Bloom appeared on Thursday, and they recorded inappropriate musical versions of The Terminator, The Exorcist and Se7en, each of which are sublime.
Well, that was one way to make your Friday immediately better. Let's not forget that, before Corden became the host of The Late Late Show (opens in new tab), he was also a Tony Award winner for his performance in One Man, Two Guvnors. In fact he won the 2012 Tony Award for Best Actor in a Play by beating out a field that include Philip Seymour Hoffman, James Earl Jones, John Lithgow, and Frank Langella.
Plus, Nathan Lane is Nathan Lane, and anything that he turns his hand to in the realm of musicals is always going to be impressive. First off, Nathan Lane and James Corden did a musical version of The Terminator.
With Lane playing Arnold Schwarzenegger and Corden playing the ignorant police officer that's about to be mown down by the killing machine, the pair embarked on the musical number, "I'll Be Back". It was peppy, catchy, and simply hilarious.
Things only got better, because the pair then decided to do a musical tribute to The Exorcist, with Rachel Bloom taking the lead role of Regan MacNeil, and Corden and Lane playing Father Lankester Merrin and Father Damien Karras.
Their ballad version of "Make My Head Spin" also combined elements of "Get Thee Behind Me Satan", while Bloom's impromptu vomiting exploits were simply the cherry on top of the icing on the cake.
The trio then decided to end on a rousing musical tribute to Se7en, which they included Reggie Watts in too, with The Late, Late Show bandleader taking the role of Morgan Freeman's Detective Somerset.
Singing the perversely uplifting What's In The Box, James Corden's Detective Mills, Nathan Lane's John Doe, and Rachel Bloom's Tracy Mills, previously played by Brad Pitt, Kevin Spacey, and Gwyneth Paltrow, respectively, each burst into song to celebrate the exploits of the iconic movie serial killer.
Each of them were superb, hilarious, and just fantastically fun performances, with a final reference to Chinatown adding to the overriding sense of euphoria. Fingers crossed that this becomes a permanent feature. In fact, fingers crossed that Nathan Lane becomes James Corden's sidekick.
Your Daily Blend of Entertainment News
Thank you for signing up to CinemaBlend. You will receive a verification email shortly.
There was a problem. Please refresh the page and try again.