Who Would You Put On The Mt. Rushmore Of Acting?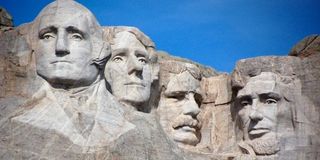 Who'd earn a spot on Hollywood's Mt. Rushmore?
Sports fans have wasted hours this past week debating over which basketball players belong on a fictional Mt. Rushmore for former players. NBA superstar LeBron James prompted the discussion during the recent All-Star festivities when, during an interview, he claimed he'd want to be considered one of the greatest to ever play the game, and would like to see himself on the Mt. Rushmore for basketball. James proceeded to list the players he'd place on his own personal Mt. Rushmore: Michael Jordan, Larry Bird, Magic Johnson and Oscar Robertson.
Sports-talk shows took the concept – not a decidedly new idea, but still one with significant legs – and ran with it. Football and baseball experts started debating their owns sports, as well. Legacy conversations often fuel sports debates, and allowing oneself only four slots for the quote-unquote Greatest in any field creates juicy challenges. Who would be considered an automatic slam dunk? Who would be a borderline selection? Who gets left out?
Immediately, I wanted to try it for acting… and I quickly learned how damn-near impossible of a task it would be to reduce the plethora of brilliant performers to a pool of four worthy of having their faces carved in stone on a fictional mount. For the record, James is realizing this on a daily basis. Just yesterday, NBA legend Bill Russell took public umbrage (via Fox Sports) at being left off of King James' Rushmore, despite having won a staggering 11 NBA Championships over the course of his spectacular career.
When you can only choose four, you are going to leave a LOT of people out.
Selecting a Mt. Rushmore for acting is a fool's errand, right? The art of acting is far more subjective than the sport of basketball. There are no points to be tallied in acting, so statistics one can lean on to pad one's status as a screen or stage performer. Sure, there are annual acting awards – but are we really going to argue that the highly-politicized process of awards campaigning is a flawless representation of an actor's worth and accomplishment? Remember, Roberto Benigni has an acting Oscar.
But we can toss out suggestions, right? There are a handful of actors who immediately leap to mind when you begin to entertain the motion of an Acting Mt. Rushmore. For example, this fictional granite pile would have to include Meryl Streep:
Streep is Royalty, with a capital "R." She's currently the most-nominated actress in history, adding number 18 this year for her searing performance in August: Osage County. It has become cliché to praise Streep. In her recent book dedicated to Streep's craft, Karina Longworth writes that the actress's technique "was an enigma to her coworkers" on the set of Silkwood, and that director Mike Nichols proclaimed, "Nobody understands what she does and how she does it." We just know that we love it. The last time Streep presented at the Academy Awards, she handed the Oscar for Best Actor to my next selection for Mt. Rushmore consideration: Daniel Day-Lewis.
In collecting the Oscar for playing our nation's 16th president, Day-Lewis became the first actor EVER to win the Academy Award in the lead actor category three times. (He also won for There Will Be Blood and My Left Foot.) Few other actors are as respected by their peers as Day-Lewis. But it's his spectacular range that has me putting him on my Rushmore. Name me another actor who could fully immerse themselves in the roles of the distinguished Lincoln, the psychotic Bill "The Butcher" Cutting and the revolutionary pioneer of Nathaniel Hawkeye in The Last of the Mohicans.
Most actors play to a certain type. The only way DDL could comprehend the idea of typecasting would be if he were cast as a pigeonholed actor, and had to thoroughly research the concept for the benefit of his performance. And of course, he'd win the Oscar for his resulting turn. Here's where things start to get dicey for me. After Streep and Day-Lewis, my arguments start to unravel. There are too many worthy performers who could and should contend for the last two slots on this imaginary mount. And like Bill Russell, I'm going to be annoyed at the omissions more than I'm going to appreciate the selections.
Still, I started this exercise, and it'd be cowardly not to "put my name on it" and single out the last two Rushmore-worthy actors. Sir Laurence Olivier has to be on this pedestal.
Classically trained (and vehemently opposed to the "Method" techniques of, say, Lee Strasberg), Olivier largely in considered the greatest actor of the 20th century. His portrayals of classic Shakespeare characters in Henry V, Hamlet and Richard III are considered the textbook examples of how to play those parts on screen. And the equally brilliant Spencer Tracy once proclaimed that Olivier is "the greatest actor in the English-speaking world." The highest of praise.
Ironically, though, my fourth and final selection is a "Method" actor… yet one who committed to the Stanislavski System and abhorred the label of "Method." He, too, is a pioneer of various acting techniques, yet one who reinvented the acting process by tapping into te internal elements that made each performance personal.
Marlon Brando has to go on that mountain. He has to. He's magnetic in movies like On the Waterfront and A Streetcar Named Desire. He's passionately untamed in The Wild One, but showed he was capable of shifting gears for Guys and Dolls. And Brando always marched to his own drum, chasing roles that challenged him – like Mutiny on the Bounty or Last Tango in Paris -- versus the ones that would bolster and sustain his career. Of course, he's Vito Corleone. But if that's the only way you know Brando, then you don't know Brando, at all.
Now brace yourself for the staggering list of amazing talents who are standing at the foot of this Mt. Rushmore, looking up. Jack Nicholson, Peter O'Toole, Paul Newman, Ingrid Bergman, Spencer Tracy, Katharine Hepburn and Gene Freaking Hackman aren't on this list. Modern masters such as Joaquin Phoenix, Tom Hanks, Denzel Washington, Philip Seymour Hoffman, Edward Norton, Cate Blanchett and Sean Penn aren't here. Pacino? De Niro? No room. Michael Caine? Morgan Freeman? Maybe next time, but you better get behind Henry Fonda, Bette Davis, Dustin Hoffman and Charlie Chaplin, because they're all going to warrant consideration.
This exercise proves what the sports-talk guys are realizing in their own conversations. There are far too many worthy candidates and too few slots when carving any kind of Mt. Rushmore. Did scultoprs Gutzon Borglum and his son, Lincoln Borglum, wrestle with such inner turmoil when deciding which presidents they'd carve into that mountain? I wonder. For now, those are my four. They'd likely change if you asked me again. Thankfully, they don't have to be carved in stone any time soon.
Whom would you choose?
Sean O'Connell is a journalist and CinemaBlend's Managing Editor. He's frequently found on Twitter at @Sean_OConnell. ReelBlend cohost. A movie junkie who's Infatuated with comic-book films. Helped get the Snyder Cut released, then wrote a book about it.
Your Daily Blend of Entertainment News
Thank you for signing up to CinemaBlend. You will receive a verification email shortly.
There was a problem. Please refresh the page and try again.