Why Alice Englert Almost Turned Down Beautiful Creatures And What Changed Her Mind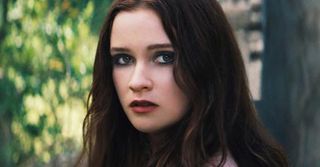 Ever since the young adult novel adaptation phase hit Hollywood the results have been quite mixed. While certainly some franchises have found incredible success with critics, there have been more than a few others that not only fail to be good movies, but also simply feel like they were made just for the quick cash grab. So it's understandable that when Alice Englert, first learned about < em>Beautiful Creatures and its origin in the young adult novel world, it's understandable that she was hesitant about taking it on. But obviously all that changed…
The new film, which is in theaters this weekend, recently held a press event in Los Angeles where I had the pleasure of sitting down with the young star to talk about her latest project. Read on to find out not only why she eventually changed her mind about Beautiful Creatures as well as the importance of the movie's themes, changing up the perception of witches, and her interests in Hollywood behind the camera.
How did you initially come to the project? Was it something that clicked with your right off the bat?
No! When I had just heard about it – I hadn't read the script – I wasn't interested.
Really! Why?
I heard something similar to what the first press releases about this was, which was that it was trying to rip off the genre thing. And without reading the script…there's a lot of generic scripts around. Actually that's what attracted Richard [LaGravenese] to me and Alden [Ehrenreich], was that neither of us wanted to do the film that was in the not-good brief. And when we met him and read the script we realized that he wasn't making that film. And the film he was making was something really, really interesting, something that took mainstream ideas and clichés and things that will have an audience…because the thing about clichés is that when done with honesty they're still interesting. There's nothing really original anymore. But I loved that while it will have this audience it wasn't bound by the genre, it wasn't bound by clichés. It had enough objectivity, it wasn't a film written from a biased perspective, either. It could talk about religion in an honest way, it could talk about the south and teenagers without trying to be cool, which I think is a real weakness in teenage film. Instead of being honest or to go against being sappy they try to be cool instead, which is mad! And think he managed to land a little left of center in every theme that we know so well: fated love, destined to be together…and yet if these characters don't end up together it's still as romantic as it would have been anyways. In fact, I think the love is more impressive because it's a love that's built on acceptance and sacrifice instead of possession.
I will say that I think the movie does have an strong message about self-definition and individuality, which I think is actually very important.
I totally agree! I think you manifest what you believe, and when you believe that you have no choice you lose choice. And it's finding the power to be able to believe in that. I'm really happy with the message. I just thought the film was funny! And not trying-to-be-cool funny. It was actually funny! It's witty, and that's a credit to Richard, who knows how to write dialogue. He just does! He understands that rhythm that's kind of old school.
Did you find yourself doing any kind of research or anything to dig into that culture and experience of the south or witchcraft mythology?
For the witchcraft I didn't do too much research, per say, into what our idea of a witch is and history. I was more interested in mythology – all the Greek gods. They were basically created by humans to be their celebrities. They're just basically human, Greek celebrities. And I liked that their powers were always extensions of their personal qualities, which I thought was much more similar to the way casters were than the generic witch with a wand and broomstick kind of thing. So that's where I looked at that.
It is interesting that the movie does avoid the typical portrayal of witches, but it even goes in a different direction than Harry Potter did in that sense. What I liked about them is that there was a sense of real society – there was a society about them, they're not just sort of the novelty of a witch. They remind me of the British upper class. And Jeremy [Irons] actually brought this up, the ideas, the rituals. All of the little mannerisms of a class of people who have been as they are since the dawn of time [laughs].
Earlier you were talking about how you had the same reaction to the project as Alden – did you know him before you became involved?
No, no, no, I didn't. Actually we didn't meet until rehearsals. But I had learned that Alden had amazingly exactly the same approach as I did, so it was great. When we met it was really easy to get along and we immediately understood that we were doing the film for the same reasons. So it was easy to build a relationship off of that. We were speaking the same language.
I'm also curious, as the daughter of two filmmakers is directing on your radar for the future? Or for now are you just focusing on acting?
Oh, I'm very attracted to it. I'm attracted to directors in general because I appreciate the work and the job they have to do. I watched the post-production, I watched the pre-production… post-production is something that I'm very interested in and I did spend a lot of time in editing rooms when I was young pretending to be sick.
What kind of stories are you interested in telling?
Personally, I like films that make me a little bit uncomfortable because I think you're uncomfortable when something is real.
NJ native who calls LA home; lives in a Dreamatorium. A decade-plus CinemaBlend veteran; endlessly enthusiastic about the career he's dreamt of since seventh grade.
Your Daily Blend of Entertainment News
Thank you for signing up to CinemaBlend. You will receive a verification email shortly.
There was a problem. Please refresh the page and try again.