Why Angelina Jolie's Unbroken Is Doing Better Than Expected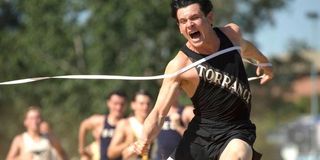 Considering the impressive amount of Christmas competition it faced at the box office last week, Angelina Jolie's Unbroken has actually had a startlingly good opening in its first few days at the box office. The film's $15.59 million gross was the third highest Christmas Day debut ever, and it has already amassed $53.9 million worldwide - which means that it is well on its way to grossing its $65 million budget back and then some. But why have moviegoers been so charmed by Angelina Jolie's film?
It's been alleged that audiences have been flocking to see Unbroken because of both its inspirational tone and plot. That's according to Jeff Bock, an analyst with Exhibitor Relations, who told Variety that around the festive period cinematic tales that revolve around faith and the immovable strength of the human spirit are usually lucrative at the box office.
Phil Contrino, vice president and chief analyst over at BoxOffice.com, also echoed these sentiments during his own discussion with the trade. In fact, he even had the gall to go on and compare it to one of the most beloved films of the modern era: Forest Gump. Why? Because they both have a number of different story threads, including "the World War II stuff, the prison camp element, and the sports stuff," which ultimately made both Forrest Gump and Unbroken "like a couple of movies in one." Whether that's actually enough to genuinely compare these two movies is very much up for debate, but there's no denying the fact that both of these films seem to have struck a chord with the movie-going public. It's also believed that the fact that Angelina Jolie directed the film helped to raise the profile of Louis Zamperini's story, while the cancellation of The Interview also meant that Unbroken's only real competition came in the form of Into The Woods.
Unbroken tells the true story of Louis Zamperini, a truly remarkable individual who sadly passed away at the age of 97 just six months before his biopic was released. Not only did Louis Zamperini compete in the Olympics in 1936 - where, at 19 years, 178 days old he is still the youngest American qualifier in the history of the 5,000 meters - but his final laps time of 56 seconds was so impressive he caught the attention of Adolf Hitler. Now, I think we can all agree that isn't necessarily something to be overly proud of, but the fact that he then allegedly climbed a flag-pole and stole the personal flag of the Fuhrer was a nice way to show his true feelings about the maniac.
You would expect that to be enough to fill a film by itself, but Louis Zamperini's impressive life also saw him enlist to serve in the United States Army Air Forces during World War II. During one mission, his plane failed and crashed into the ocean. Louis Zamperini survived the impact, and even managed to board two floating safety rafts that kept him afloat for 47 days. He was finally rescued, alongside another survivor, but it was by the Japanese, who then placed him into a prisoner of war camp where he was imprisoned for over two years.
Despite some original worries that Angelina Jolie's second stint as a director might not do Louis Zamperini's real-life escapades justice, Unbroken has been met with some good reviews - though it has been criticized by some for being overly clichéd. Despite these so-so reviews, it's now believed that Unbroken will ultimately go on to gross over $100 million, and if it does just that it will certainly be regarded as a bona fide success.
Your Daily Blend of Entertainment News