Why Is Anyone Making A Thriller About The BP Oil Spill?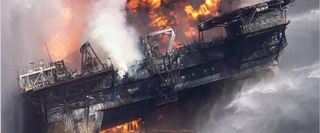 After the Deepwater Horizon oil rig exploded in the Gulf of Mexico in April of 2010, the resulting oil spill became one of the biggest environmental disasters in American history, and conversation about the explosion revolved around the devastating impact to the Gulf Coast and the waters surrounding it. Months later, The New York Times published an astonishingly detailed report about the side of the story no one had really been talking about: what caused the explosion, why the rig was destroyed as a result, and how the people caught in the middle of the disaster handled it. The article was actually quite critical of the crew's response, pointing out safety requirements that were enacted too let or not at all, and lack of communication that could have saved the rig entirely.
It was another dark chapter in an incredibly dark story-- and now, somehow, it's being turned into a Hollywood thriller. Over at Deadline they have news that Ric Roman Waugh will be directing Deepwater Horizon, the project assembled by Summit Entertainment and Participant Media that will adapt the New York Times article. The story will focus on the people working on the Deepwater rig-- who, granted, probably didn't all fail in their safety responses-- and their efforts to survive after the explosion that killed 11 people. It's unclear how the film will deal with the massive environmental fallout, but aside from a few images of oil-slicked fish, you can probably count on that being left out of the main story.
I have no real problem with a story about heroes surviving an explosion on an oil rig, or exploring the hardscrabble lives of the people who work this incredibly dangerous job. But somehow glamorizing this awful disaster seems wrong-headed, especially making it a thriller-- Ric Roman Waugh is a former stuntman who's currently directing the action thriller Snitch with Dwayne Johnson, so it seems like a fair guess. The survival of the people on the Deepwater Horizon rig is remarkable, yes. But it seems like the wrong story to tell about this very real disaster.
Staff Writer at CinemaBlend
Your Daily Blend of Entertainment News
Thank you for signing up to CinemaBlend. You will receive a verification email shortly.
There was a problem. Please refresh the page and try again.