Why Batman V Superman May Have A Much Bigger Opening Weekend Than We Thought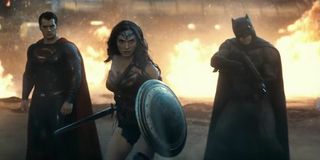 Zack Snyder's Batman V Superman: Dawn of Justice is destined to make a healthy profit. We know that and we've accepted that; now it's just a matter of how big the profit turns out to be. When you're going to pit the world's two biggest superheroes against each other on the big screen for the first time in history, that's simply a given. However, the potential for Batman V Superman's opening weekend to kick off in grand fashion seems even more probable than previously thought, and it's all due to the film's release date.
A new report from THR indicates that Batman V Superman: Dawn of Justice has struck gold with its opening weekend release schedule. We've learned that the superhero smack down will release simultaneously in the world's three biggest markets: North America, China, and Japan. Most major western films experience a delay before releasing overseas to Asian markets because the delay tends to benefit native Asian productions at the box office, but it seems that Batman V Superman will represent an exception to this rule.
Releasing the film simultaneously in China, North America, and Japan represents a major advantage for Warner Bros. Many films that experience delayed releases overseas often find themselves marred by the extra time, as it allows video pirates opportunities to obtain and distribute illegal copies of the film, which in turn cuts into the overall box office profits. Simultaneous release sidesteps this potential drawback and gives audiences in the world's three biggest markets the opportunity to immediately check out the film. In addition to the potential for piracy, this delay in release often means that major blockbusters hit Asian markets packaged together, which causes them to eat into each other's box office potential.
The news represents a major victory for Warner Bros, who pretty much need Batman V Superman to go off without a hitch in order to preserve the future of the DC Extended Universe. Despite the fact that it's a fairly respectable superhero film, Batman V Superman's predecessor – Man of Steel – only grossed around $668 million at the box office. Of that $668 million, only $63.4 million of that gross came from the Chinese box office. Obviously those numbers are nothing to scoff at, but we live in the age of the $2 billion box office, as well as an age where financial success in China can completely reverse a bad movie's fortune – we're looking at you, Terminator: Genisys. The prominence and power of China's box office numbers only continues to grow, and as such, the region becomes more and more important for major film releases every year.
Now it looks like the stage has been set for these two comic book titans to do battle. It begs a question not only of who will come out on top, but how much money the battle will make Warner Bros. in the process. We will bring you any and all information concerning the imminent release of Batman V Superman: Dawn of Justice as it becomes available to us; the film will hit theaters in the top three global markets on March 25.
Originally from Connecticut, Conner grew up in San Diego and graduated from Chapman University in 2014. He now lives in Los Angeles working in and around the entertainment industry and can mostly be found binging horror movies and chugging coffee.
Your Daily Blend of Entertainment News
Thank you for signing up to CinemaBlend. You will receive a verification email shortly.
There was a problem. Please refresh the page and try again.