Why Christian Bale Calls Chris Farley's Beverly Hills Ninja His Favorite Movie Of All Time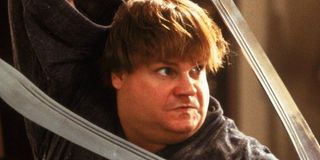 We've all got our stock answers for when we're asked about our favorite film of all time. Not just that, but you also have to be able to provide a sturdy reason for why you love the movie, all while trying not to sound pretentious. No one can accuse Christian Bale of being the latter though, because when he was asked what his favorite film of all time was the Welsh actor rather surprisingly revealed that it is the Chris Farley-led 1997 comedy Beverly Hills Ninja.
Despite currently having an IMDB rating of 5.5 and just 14% on Rotten Tomatoes, Christian Bale has been able to overlook the critical mauling of Beverly Hills Ninja. In fact, Bale insisted that he absolutely adores Beverly Hills Ninja because it managed to make him weep with mirth two days in a row. The Batman Begins actor actually made this revelation to Esquire, via Yahoo, all the way back in 2010, and he explained:
Now not only might some of you find Christian Bale's choice of Beverly Hills Ninja rather odd, but you also might be surprised that the famously intense actor went for an entry from the comedy genre at all. However, clearly, when Christian Bale isn't playing Batman or shouting at a director of photography during filming, he likes to unwind by howling with laughter.
And the tale of Chris Farley's white orphan boy being found in a treasure chest by a clan of ninjas and then raised in their ways, before then traveling to Beverly Hills to investigate a murder mystery, is obviously the perfect tonic after a hard day's work for Christian Bale. Check out a clip from Beverly Hills Ninja below to see if you can spot the appeal.
I'm just crossing all of my fingers and toes that Christian Bale tried to explain the virtues of Beverly Hills Ninja to director Terrence Malick while the pair worked on the acclaimed filmmaker's latest offering, Knight Of Cups. Because I'm going to take a wild guess and assume that's the only way it'd ever appear on the Badlands and Thin Red Line director's cinematic radar.
Your Daily Blend of Entertainment News