Why Christian Bale Doesn't Think Of Himself As A Movie Star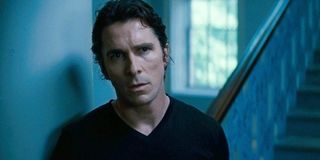 Christian Bale has admitted that he doesn't think of himself as a movie star. In fact, Christian Bale doesn't think that anyone in the current cinematic climate is a movie star. In fact, the Exodus: Gods and Kings actor believes that the "movie star" is a dying breed.
During a discussion with the Wall Street Journal to promote his upcoming turn as Moses in Ridley Scott's epic, Exodus: Gods and Kings,, Christian Bale confessed that he believes he is relatively lucky to have the anonymity that he has. That might sound crazy coming from the mouth of arguably the biggest actor on the planet at the moment, but when Christian Bale was asked whether he pined for invisibility he explained …
At this point Christian Bale had it explained to him that he is actually a movie star, but this only provoked a more detailed response from the Welsh thespian.
I have to agree with Christian Bale's point of view. The history of cinema is littered with actors and actresses who only ever really played one character in their films. Jimmy Stewart was Jimmy Stewart in Vertigo, It's A Wonderful Life and The Man Who Shot Liberty Valance. Paul Newman was Paul Newman in The Hustler, The Sting and Butch Cassidy and the Sundance Kid. Carey Grant, Jack Lemmon, Kirk Douglas and Burt Lancaster were the same. Now actors go out of their way to let their roles inhabit them and not the other way round - especially when it comes to already established characters like superheroes. This way they are able to appease the army of fans that are ready to pick apart any deviations from the source material that they might make.
While this may seem like a largely positive thing, there is a potential downside as well. Mainstream characters and actors in blockbuster cinema have all been diluted down to a certain degree and it has become impossible to tell one personality and screen presence apart from another. Decades ago audiences would go to see a film because they wanted to catch up with the likes of Jimmy Stewart, Jack Lemmon and Carey Grant. Directors and studios knew this too and they would hire these thespians to simply be themselves on the silver screen. Currently I'd say that only Robert Downey Jr., and at a push Tom Hanks, Will Smith and Tom Cruise possess that kind of presence. It's dying out. And I have to admit I'm a little sad that's the case.
Your Daily Blend of Entertainment News