Why Fifty Shades Of Grey Will Be A Bigger Hit Than People Thought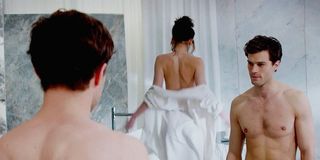 Fifty Shades Of Grey, one of the most highly-anticipated adaptations in recent years, is set to hit theaters later this month. The upcoming steamy romance drama based off of E.L. James' best-selling novel has set big expectations with its announcement that it was being turned into a film. Now, with the film enjoying huge advance ticket sales in unexpected Midwestern and Southern states, it looks like it may even surpass its expected results and become a bigger hit than people thought.
With Fifty Shades Of Grey less than two weeks away, the ticket sales have begun to rack up. According to Fandango, who compared (state by state) the pre-sales performance of Fifty Shades against the average, the film is selling better than expected in more than a handful of states across the country. Among its top ten are Tennessee, where it's selling over 1.5x its prior expectation, Iowa (1.7x) and Louisiana where it's selling twice as good. As good as those numbers sound, their not nearly as great as in Arkansas and Mississippi, where advanced ticket sales have sold 2.8x and 3.9x higher than analysts previously anticipated, respectively.
Also worth noting is the fact that Fifty Shades of Grey has already sold out hundreds of showtimes during it's debut Valentine's Day weekend in cities like Tupelo, MS., Chattanooga, TN., San Diego, Houston, Las Vegas, Los Angeles and New York, prompting a slew of new screenings to be added to meet demand. Not only that, tickets are selling so good that the erotic thriller recently took the top spot for fastest-selling R-rated film pre-sales in all of Fandango history. It can now boast higher advanced sales than Sex and the City 2, The Hangover II, The Hangover III and Gone Girl. It's worth mentioning that all of these aforementioned films grossed $300+ million dollars, a number studio execs would most certainly be pleased to see from Fifty Shades.
What is the source for all of the hype and positive news of advanced ticket sales you ask? Well for one, the film is based off one of the most popular books to hit store shelves in recent years. It topped charts in the U.S. and UK, and has sold more than 100 million copies worldwide, where it has been translated into over 50 languages. Secondly, the plot of the book/film has a lot to do with a tiny, little, yet extremely powerful word... "sex." Yes, as we all know, sex sells and while the film only received an R-rating, it promises it in spades. Don't believe me? Check out the trailer from Super Bowl Sunday.
The script for Fifty Shades Of Grey was written by Kelly Marcel and the film is helmed by Sam Taylor-Johnson. It stars Dakota Johnson (The Social Network) and Jamie Dornan (The Fall) and hits theaters on February 13.
Your Daily Blend of Entertainment News
Thank you for signing up to CinemaBlend. You will receive a verification email shortly.
There was a problem. Please refresh the page and try again.