Why The Steve Jobs Movie Played With Facts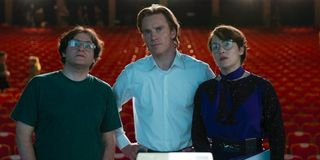 It's no secret that Tim Cook doesn't really approve of the Steve Jobs biopic. The Apple CEO called the project opportunistic, something he considers "not a great part of our world." The thing is, though, the filmmakers behind Steve Jobs have been pretty clear that the film plays with the facts. As we've previously detailed, it's not really a biopic. And according to Kate Winslet, it was important for the story's sake to play with the facts.
Winslet, who plays Joanna Hoffman in Steve Jobs, sat down with Cinema Blend for an interview during the film's press junket. She explained,
The character of Joanna, she said, is a composite of several women in Steve Jobs' life. Winslet pointed out that Andrea Cunningham, portrayed by Sarah Snook in the film, was more involved in Jobs' life than depicted. However, when writer Aaron Sorkin met the real-life Hoffman, he fell in love with her and the color she brought to the story as a woman "from somewhere else."
Kate Winslet further explained the choice to manipulate facts was for the sake of the audience and the story they were trying to tell. After explaining the relationship between Hoffman and Jobs in the film, she said,
Watch the full clip of our interview with Winslet below.
Steve Jobs is directed by Danny Boyle and features Michael Fassbender as the title character, Jeff Daniels as former Apple CEO John Scully, Seth Rogen as Apple co-founder Steve Wozniak, Michael Stuhlbarg as "the other Andy" Hertzfeld, and Katherine Waterston as Jobs' first wife Chrisann Brennan. The film focuses on three acts, each one going behind the scenes of a famous product launch — the first Mac computer, the NeXT cube after Jobs left Apple, and the iMac after Jobs returned to Apple.
Steve Jobs is playing in limited release at the moment. It will expand to more theaters on October 23.
Your Daily Blend of Entertainment News