What Convinced Aaron Sorkin That Michael Fassbender Could Play Steve Jobs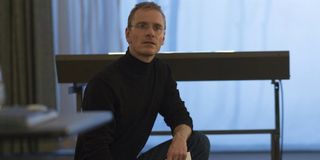 It's hard to imagine that there are people out there who don't know about Michael Fassbender. Nevertheless, when screenwriter Aaron Sorkin was looking for his Steve Jobs with director Danny Boyle, he was probably the only one who didn't know who he was. In Sorkin's defense, this project was in development for such a long time, and Fassbender hadn't yet become the in-demand talent he is today. Thankfully, the actor's work spoke for itself.
It took a long time to get to Fassbender. First, David Fincher was in talks to helm the film, but when his name was taken off the table, so was prospective headlining actor Christian Bale. Then there was talk of Leonardo DiCaprio potentially coming aboard, and rumors were circulating at one point that Sorkin wanted Tom Cruise for the job. As it turns out, Boyle was the one who wanted Fassbender for the role.
Sorkin described the casting process in an interview with Cinema Blend during the film's press junket. He said,
Before Fassbender became Jobs, before he became the villainous master of magnetism, he played a German film critic turned Lieutenant Hicox. His first big scene — and it's likely this is what Sorkin was referring to — came when he had a Mexican standoff with a Nazi in a bar. It's one of the most memorable scenes from Inglourious Basterds.
During a separate interview, Jeff Daniels, who plays former Apple CEO John Scully, told us that he heard about the casting for Steve Jobs while filming season 3 of The Newsroom. So we can probably infer that on Sorkin's Fassbender watch list were titles like his trilogy of films with director Steve McQueen — Hunger, Shame, and 12 Years a Slave — in addition to Prometheus and even X-Men: First Class.
Watch the full clip of our interview with Aaron Sorkin below.
Steve Jobs first premiered at the Telluride Film Festival before hitting up the one in New York. In addition to Fassbender and Daniels, the film features Kate Winslet as Johanna Hoffman, Seth Rogen as Steve Wozniak, Michael Stuhlbarg as Andy Hertzfeld, and Katherine Waterston as Chrisann Brennan. The events that ensue occur behind the scenes of three product launches — the Mac computer, the NeXT cube after Jobs left Apple, and the iMac when Jobs returned
Steve Jobs is playing in limited release, and will expand to more theaters on October 23.
Your Daily Blend of Entertainment News
Thank you for signing up to CinemaBlend. You will receive a verification email shortly.
There was a problem. Please refresh the page and try again.