Aaron Sorkin Has A Brutal Response To Apple CEO's Steve Jobs Comments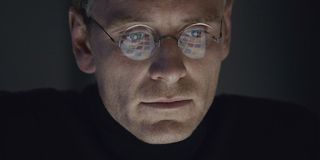 From almost all accounts, Danny Boyle's upcoming Steve Jobs could very well be a contender come awards season. Not everyone is pleased with it, however, as Apple CEO Tim Cook recently made some accusations against the motives of the filmmakers behind the project. But one of those involved, writer Aaron Sorkin, has a brutal response to Cook's criticisms.
Cook recently made a crack about Steve Jobs being "opportunistic" in making a film about the late tech icon. Sorkin, never one to shy away from open conflict, fired back while talking to The Hollywood Reporter at the press junket for the film. He said:
Shots fired.
To illustrate just how non-opportunistic a project Steve Jobs was, Sorkin indicated that he, and other key members of the behind-the-scenes creative team, though he didn't specify exactly who, actually took pay cuts in order to ensure that the film got made. He also said:
Steve Jobs is scheduled for a wide release early next month, though following its debut recently at the Telluride Film Festival, it has earned high marks. Star Michael Fassbender, who reportedly delivers a transformative performance as the Apple founder and tech visionary, has especially been singled out in this admiration.
Instead of a traditional birth-to-death biopic, Aaron Sorkin's script, adapted from Walter Isaacson's biography of the same name, focuses on three key moments in Jobs' life, three different, but equally important product launches. It begins in 1984 with the debut of the first Macintosh, picks up with 1989's NeXT unveiling, and wraps up with he triumphant introduction of the iMac in 1998. Though rooted in this trio of events, the film uses his professional life to highlight his driven personality and also examine his relationship with both his compatriots and employees and his estranged daughter, Lisa.
Even Apple co-founder Steve Wozniak, who is portrayed by Seth Rogen in the film, has praised Steve Jobs, and thanked Sorkin, Boyle, Fassbender, and the rest for "getting it so right." Considering he was there for most of these events, that's the kind of commendation that you have to assume the filmmakers appreciate quite a bit.
We'll have to wait and see if there's any additional fallout from the war of words between Tim Cook and Aaron Sorkin, but that should help fill the time between now and October 9, when Steve Jobs opens.
Your Daily Blend of Entertainment News