Why Young People Stopped Going To The Movie, According To Theater Owners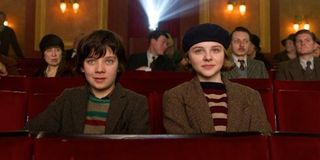 There has been a lot of talk that the movie industry is in trouble as box office totals dipped last year and younger have tended to stray away from going out to the movies as much as they once did. According to one theater executive, there's a very simple reason for this trend: going to the movies costs too much and young people don't have much money.
Movie attendance in the coveted 18 to 39-year-old demographic has steadily been taking a nosedive over the past five years, and there have been a number of reasons given by analysts for what many perceive as a lack of interest. Talking to Variety at CinemaCon, Gerry Lopez, the CEO of AMC Entertainment, gave a different explanation, saying:
Many have blamed decreasing movie attendance on things like the always-growing popularity of video games, increased digital and on demand options, and the rise of streaming services like Netflix, Hulu, and Amazon Prime. While that may be part of it, Lopez had other ideas. He's quick to point out that expenses like growing costs of cellphones, Internet service, and cable are eating into spending money that would once have gone towards things like a night at the movies.
Other factors also play a large part in this trend. Across the board, wages have flat-lined in recent years, and even declined in some cases. Less discretionary income means consumers are allowing themselves fewer and fewer luxuries like this. And when talking about young people, we're also talking about a segment of the population that is increasingly saddled with crushing student loan debt as the cost of going to college increases exponentially. A recent study cited in the Variety piece indicates that the average graduate leaves school with more than $28,000 in loan debt. When you have to pay back tens of thousands of dollars, it's easy to see why many people choose to stay home and watch YouTube videos instead of going to the movies.
Not to mention that going to the movies is also becoming an increasingly expensive endeavor. It's not exactly the cheap date it once was. Tickets may only average $8 nationally, but if you live in a city of any size, that goes way up, and you have to factor in that premium extras like IMAX and 3D routinely jack up the price even more. And how many of you out there have paid six bucks for a watered down soda or greasy back of popcorn lately?
People in this age bracket are obviously still going to the movies, but with greater competition and a growing number of entertainment options at their disposal, and increasingly limited resources, they're becoming more and more judicious with what they spend their money on.
Your Daily Blend of Entertainment News
Your Daily Blend of Entertainment News
Thank you for signing up to CinemaBlend. You will receive a verification email shortly.
There was a problem. Please refresh the page and try again.