Willem Dafoe Joins Matt Dillon In Whiskey Bay, Up For A Most Wanted Man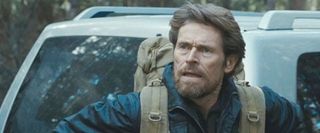 Few actors are as impossible to predict as Willem Dafoe. The cryptically compelling performer and founder of the experimental theater troupe The Wooster Group thrives on his leaps from one challenging role to the next. Now, hot off his recently wrapped lead in Stephen Sommers' upcoming thriller Odd Thomas, Dafoe is lining up not one but two crime dramas that seem sure to raise eyebrows and blood pressures.
Deadline reports Dafoe and Matt Dillon have signed on to headline Whiskey Bay, the directorial debut of Boondock Saints producer Chris Brinker. Of course, Dafoe memorably played cross-dressing FBI secret agent Paul Smecker in the cult classic; in this new indie venture he's signed on to portray a veteran cop who teams with Dillon's character, a former white supremacist, to go undercover to reveal the Aryan Brotherhood's illegal activities. Working with a first-time director is always a risk, but one that may appeal to Dafoe. And Brinker's connection to one of Dafoe's most adored roles can't hurt either.
Next up, Variety announces Dafoe is the latest intriguing actor to enter into talks to star in Anton Corbijn's A Man Most Wanted. Just yesterday word hit that Robin Wright was in negotiations for an undisclosed role, and today's update reveals she's since signed on. Sadly, there are no details on what part she or Dafoe are being lined up to play in the latest adaptation of a John Le Carre spy novel. All we know at this point is that Philip Seymour Hoffman will play a German spy in a tale that centers on a Chechnian Muslim whose illegal immigration to Hamburg, Germany is attracting notice from international forces entrenched in the War on Terror. But really, with a cast as promising as this, you don't need particulars to get pumped about A Man Most Wanted.
Staff writer at CinemaBlend.
Your Daily Blend of Entertainment News
Thank you for signing up to CinemaBlend. You will receive a verification email shortly.
There was a problem. Please refresh the page and try again.