Willis, Akerman, Whitaker And Mara Go For Catch .44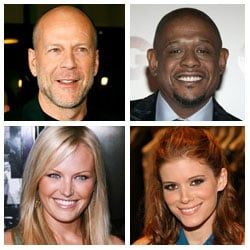 Aaron Harvey is getting one heck of a cast for his directorial debut. According to Variety, Forest Whitaker, Bruce Willis and Malin Akerman have all signed on to star in Harvey's indie drama Catch .44.
Harvey wrote the script, which focuses on a trio of women led by Akerman who get caught up with Whitaker's character, part shabby truck driver, part insane line cook and part psychopathic hitman. Willis steps in as a crime boss who's controlling the entire situation. Variety curiously buries news of Kate Mara's involvemen, but it seems likely she'll play one of the two remaining women.
Annapurna Prods. is handling the workload alongside Fixed Point Films and Emmett/Furla Prods. They're planning to put Harvey behind the lens in Shreveport, Louisiana on July 11th.
With Harvey's blank resume, there's little to go on here. A quick IMDB search reveals the name Aaron Harvey is a common one in the film industry and, strangely enough, the name linked to Catch .44 actually has a directing credit on the list, some horror movie called The Evil Woods. The story seems clichéd, but the trailer isn't all that terrible. You can actually catch the entire film on Hulu if you're curious. No telling if it's the same Aaron Harvey, though, since Variety seems to believe he's a first-timer.
The main draw here is clearly the cast. I'm all for anything starring Akerman and yes, that includes The Heartbreak Kid. It's been quite some time since Willis or Whitaker delivered anything that great, but I'm eager to put the blame on the material they're working with. As for Mara, why is she omitted from the Variety headline? It'd only be an extra four letters! Need proof her name should be in bold? Check out Transsiberian. Her performance in that still gives me chills.
Your Daily Blend of Entertainment News
Staff Writer for CinemaBlend.