New York Comic Con Is Officially Bigger Than San Diego's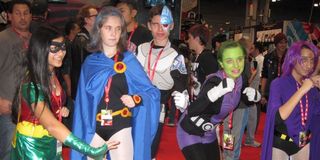 For six years of its existence, those of us who have covered New York Comic Con have been told it's nothing compared to San Diego's International Comic Con. And yes, San Diego is typically considered the big show, where Loki comes to taunt the crowd, where the X-Men reunite in full, and where a Superman-Batman movie gets unveiled. But it seems change may be in the air, as NYCC has finally surpassed attendance of its West Coast rival.
The New York Post reports that over NYCC's four-day run, more than 130,000 people came to the Javits Center at the edge of Manhattan to revel in all things geek culture. According to the paper, this beats out San Diego International Comic Con's headcount, and thereby solidifies NYCC's place as major cultural force. This could mean studios, publishers, and TV networks will take NYCC more seriously in the coming years. As someone who has covered the event for several years now, that would be a welcome change.
While there were a wide array of panels at NYCC this year--ranging from a Legend of Korra to Oldboy presentations--there were no announcements made that grabbed headlines the way SDCC did over and over. In fact, NYCC got off to a rocky start as their first major headlines involved a Twitter scandal. A few months back, The Mary Sue reported that to cut down on overcrowding caused by counterfeit badges, and better monitor traffic flow, NYCC had upgraded their badges, installing a computer chip that would essentially track the movements of the thousands of people within the Javits Center.
According to their report, once a Con-goer registers their badge, NYCC will be able to tell where they spent their time at the event, as well as how long they stayed. As an incentive for sign-up, NYCC promised social media perks and entry into raffles for free digital comics and a car. (The downside to not registering your badge was that it would not be replaced if lost.) However, some of those who did register were shocked when NYCC started tweeting about the event from their personal user accounts. This "hijacking" story hit Mashable as NYCC began, and outrage spread fast.
Soon a NYCC representative released a statement that read:
In their eagerness to sign up for these incentives, it seems many Con-folk did not read the fine print, and opted in to an agreement that allowed NYCC to tweet on their behalf. The dust has since settled on this issue. But NYCC will have to be more mindful about their promotions from here on out. They've got the numbers, now it's time to start grabbing the talent that will really make NYCC stand out.
Staff writer at CinemaBlend.