For Your Consideration: Moneyball Is Change We Can Believe In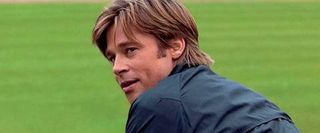 Every weekday from now until the Oscar ceremony we'll be running a For Your Consideration piece on behalf of every Best Picture nominee, arguing why it deserves its nomination or even a win, arguing why it's important, or even pointing out why it doesn't belong at the Oscars at all. Here is Eric with a personal argument on behalf of Moneyball.
In 2008, Barack Obama defeated John McCain and was elected the 44th president of the United States. He was able to accomplish this monumental feat with the power of one word: change. After years of war, economic collapse and endless bad faith from politicians, the American people stood up, said that they were sick of the failing status quo and used democracy to demand something new. But change never comes easily – just ask Billy Beane.
I don't think that Moneyball is a political film. I don't think that director Bennett Miller saw Beane as a proxy for Obama and I don't think the movie sways to either side of the political scale. How could it? Michael Lewis wrote "Moneyball: The Art of Winning an Unfair Game" in 2003 and the movie chronicles the Oakland Athletics' 2002 season. But no movie released in 2011 better represents the era in which we are living and the magnitude of that fact is why Moneyball should take home the Best Picture prize at this year's Academy Awards.
This year's list of Best Picture nominees contains an unprecedented number of films that look backwards and reflect on the past. The Artist and Hugo both transport audiences back to the golden age of cinema. The Help and The Tree of Life both take us back to the 1960s. Midnight in Paris has Owen Wilson transported back in time to the early 20th century. War Horse takes place entirely during World War I. Of the nine films up for the big prize at the Academy Awards this year, only three – Moneyball, The Descendants and Extremely Loud and Incredibly Close – are set after 2000. But while our culture has become obsessed with nostalgia and the way things were, it's the opposite of where we should be looking. We need to stop glorifying the past and learn how to change for the future, and no film from last year – nominated for Best Picture or not – does that better than Miller's baseball drama.
We should aspire to be a renegade like Beane, and what's most impressive about Moneyball is that the film makes that seem achievable. As scripted by Steve Zaillian and Aaron Sorkin and brilliantly portrayed by Brad Pitt, Beane is not a god or a saint, but rather a normal, flawed human being who has been driven to rebellion against a broken system. His obsession with work takes away time with his daughter, he has rage issues that often lead him to throw office supplies against the wall, and his past is riddled with mistakes and failures. But rather than let his humanity defeat him, the A's general manager uses it to fuel his drive and make the changes that he knows are right.
At the end of Moneyball, Billy Beane takes a meeting with John W. Henry, the owner of the Boston Red Sox, who offers the A's manager a $12.5 million salary to run Boston's organization. During their conversation, Henry, played by Arliss Howard, dispenses this bit of wisdom:
We, as a nation, are covered in blood. In the last three years we have seen health care reform that could eventually help us reach the standards set by other first-world nations, troop withdrawal from Iraq, and economic reform that has seen the unemployment rate finally start to drop. And every change has been met with debate, dispute, denunciations, and disparagement. But then you have the 2004 Red Sox. Embracing the methodology propagated by Beane, the organization won its first championship in 86 years. Change turned into triumph, and that social message is displayed perfectly in Bennett Miller's film. And that not only deserves to be celebrated, but needs to be rewarded.
For more arguments for and against this year's Oscar nominees, go right HERE.
Your Daily Blend of Entertainment News
Assistant Managing Editor
NJ native who calls LA home and lives in a Dreamatorium. A decade-plus CinemaBlend veteran who is endlessly enthusiastic about the career he's dreamt of since seventh grade.
Your Daily Blend of Entertainment News
Thank you for signing up to CinemaBlend. You will receive a verification email shortly.
There was a problem. Please refresh the page and try again.