Zhang Yimou Might Direct Josh Brolin In Quasimodo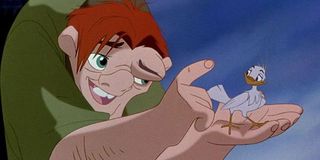 In his homeland of China, filmmaker Zhang Yimou is essentially the definition of a national treasure. Not only has he made such awe-inspiring films as Hero, House of Flying Daggers and Raise the Red Lantern, he also directed the mind-blowing opening ceremonies of the 2008 Olympic Games that were held in Beijing. But his movies have found appreciative audiences around the world, and Warner Bros is looking to capitalize on Zhang's incredible reputation and unparalleled visual storytelling for an adaptation of Victor Hugo's classic novel The Hunchback of Notre Dame.
Variety reports Zhang is currently in talks for the film, which will be called simply Quasimodo. The project has been in development at Warner Bros. since 2011, when Josh Brolin pitched it with plans to star. He's still attached, and it's said his concept for the story is what guided Sherlock Holmes: A Game of Shadow's screenwriters Kieran and Michele Mulroney's approach to the screenplay. The basic plot will follow a gypsy girl who flees to the Notre Dame Cathedral in Paris, seeking sanctuary once she's been accused of murder. She claims to have been framed, and is shielded from her pursuers by the titular malformed bell ringer.
Should Zhang sign on, Quasimodo could be his follow-up to his Golden Globe-nominated historical drama The Flowers of War. My guess is it's that film that caught Warner Bros attention. Based on the Gelin Yan novel, The Flowers of War reveals the horrors that occurred in the 1937 Japanese invasion of China known as the Rape of Nanking. The film centers on a church where young girls were educated before the Japanese military invaded. After, it is where they hide, but not alone. Prostitutes fleeing the under-attack Red Light District claim sanctuary within the school's walls. And all the women and girls there soon become dependent on a western man who got trapped in Nanking on some minor business. At first, he tries to reject the responsibility of their safety, but soon becomes their reluctant protector by masquerading as a priest.
You can check out the trailer below, or see it in full on Netflix Instant (opens in new tab).
It's a truly fantastic film. And beyond sharing some obvious plot similarities to Quasimodo, it notably featured Hollywood leading man Christian Bale in the role of the ugly American turned hero. This means helming an English-language film would not be entirely foreign to Zhang. Warner Bros. is likely betting this adaptation will have domestic appeal between Brolin, the book's fame, and Zhang's prestige. But really, Zhang's name alone might make this an instant hit based on China box office alone. While The Flowers of War was painfully underseen Stateside—earning just $311,000 in its domestic run, it was a smash hit in China, pulling in $97 million and becoming the third highest-grossing film in the nation's box office history. Of course, we're still waiting to see how Hollywood and China will resolve their latest battle over profits, but Brolin plus Zhang should equal a solid investment regardless. In the meantime, look for Brolin in Spike Lee's Oldboy, which will be in theaters this October.
Staff writer at CinemaBlend.
Your Daily Blend of Entertainment News
Thank you for signing up to CinemaBlend. You will receive a verification email shortly.
There was a problem. Please refresh the page and try again.