eBay Joins The Ban On Controversial Django Unchained Dolls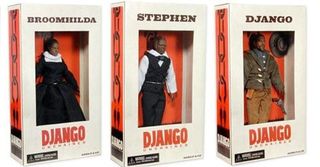 From autographed posters to collectible figures and vintage promo tees, eBay is typically a terrific venue for seeking out hard to find movie memorabilia. So, when The Weinstein Company pushed toymaker NECA to pull their line of Django Unchained dolls from the market, interested parties knew just where to go to get the now rare releases. With the demand greatly outweighing supply, the auction bids for the figures of characters like Django, Broomhilda, and Dr. King Schultz skyrocketed, going upwards of $2,000. But in light of the outrage the sale of these figures has caused, eBay has shut down all auctions for the controversial collectibles.
Deadline reports the online auction site removed all listings for the dolls, considering their sale a violation of eBay's Offensive Materials policy, which bars the sale of items "that graphically portray graphic violence or victims of violence, unless they have substantial social, artistic, or political value" including "racially or ethnically offensive language, historical items, reproductions, and works of art and media".
Controversy first brewed over the dolls earlier this month, when the advocate group Project Islamic Hope declared this particular marketing tool trivialized the suffering and carnage caused by slavery in America. Shortly thereafter, Reverend Al Sharpton and his National Action Network joined their cause, calling for a nationwide Boycott. From there, The Weinstein Company opted to kill the line, which has spurred a black market for the dolls.
Whether the Django Unchained collectible action figures are offensive or not is still up for debate. But rather than making a strong political stance here, eBay is more likely playing it safe by ending their association with this hot button brand. Still, it's strange where they choose to draw the line, as these controversial dolls (opens in new tab) are for sale through the site.
Staff writer at CinemaBlend.
Your Daily Blend of Entertainment News
Thank you for signing up to CinemaBlend. You will receive a verification email shortly.
There was a problem. Please refresh the page and try again.