Hugh Jackman's Big Top Circus Biopic Has Landed An Exciting Leading Lady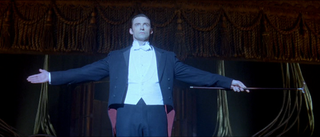 It takes great showmen to craft a narrative about great showmen. Although we still know very little about Hugh Jackman's upcoming P.T Barnum biopic, The Greatest Showman on Earth, our excitement has slowly built and built as information has trickled in. In fact, the latest bit of news concerning the project is arguably one of the most excited revelations about the film to date. The film seems to have finally found its leading lady, and she's absolutely perfect to star alongside Jackman.
According to a brand new report from Variety, it seems that The Greatest Showman on Earth has enlisted the acting chops of actress Michelle Williams to take on the lead female role in the upcoming biopic. The exact nature of her role in the film remains unclear to say the least, but the report seems to confirm that she will headline the film alongside everyone's favorite X-Men actor.
Although she's somewhat less prolific than some of her Hollywood contemporaries, Michelle Williams has a long history of choosing incredibly strong projects for herself. With over two decades of acting experience under her belt, she has turned in impeccable performances in a wide variety of films, ranging from My Week With Marilyn to Blue Valentine and even Brokeback Mountain.
In addition to her work on the silver screen, Michelle Williams has also proven that she has a knack for dominating a stage with her roles on Broadway. Her energy and magnetism as a stage actress even led her to a Tony nomination this past year for her role in Blackbird opposite Jeff Daniels. The fact that she has agreed to sign on to The Greatest Showman on Earth seemingly indicates a great deal of promise for the upcoming film.
The cast for The Greatest Showman on Earth seems to slowly but surely be coming together in the best possible way. In addition to the news about Michelle Williams' casting, Variety also reports that Zac Efron is similarly rumored to be joining the cast. It takes more than three actors to carry a film of this weight and magnitude, but we have to say that it's most certainly off to a good start.
We will bring you more information concerning The Greatest Showman on Earth as it becomes available to us. With the addition of Michelle Williams to the film's ensemble, we have a feeling that this project could potentially dominate next year's award season. The Greatest Showman on Earth will hit theaters on Christmas Day 2017.
Your Daily Blend of Entertainment News
Thank you for signing up to CinemaBlend. You will receive a verification email shortly.
There was a problem. Please refresh the page and try again.