When The Gambit Movie Will Start Shooting, According To Simon Kinberg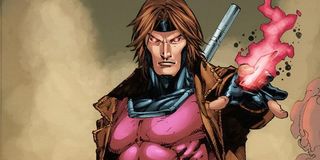 Some movies get made easily and with minimal questions asked. Gambit is not one of those movies. Few superhero solo movies have ever epitomized the phrase "development hell" quite like Channing Tatum's seemingly cursed X-Men movie. However, it now seems that the smoke has begun to clear and the Cajun X-Man might soon start making some progress. We've just learned that Simon Kinberg finally has an answer regarding when Gambit will actually begin production.
During a quick interview on The Hashtag Show, X-Men producer Simon Kinberg elaborated on the current status of the Gambit movie and explained when the film is expected to enter production. He said:
So it seems that -- slowly but surely -- the long-awaited Gambit solo movie has begun to inch its way towards existence.
The project has been through the wringer over the last few years. Originally Gambit was supposed to hit theaters his year, but the folks at 20th Century Fox decided to wait until the script had been perfected, by which time lead actor Channing Tatum's slate of movies had become decidedly more crowded. Now that the script has received a proper polish, and Tatum's schedule appears to have cleared up significantly, it looks like the filmmakers will soon find themselves ready to properly begin production on Gambit.
Gambit is one of those characters that the studio really wants to get right. Aside from the fact that he's simply one of the most popular X-Men characters of all time, Gambit is the sort of anti-hero that could suitably replace the adamantium-clawed Wolverine once Hugh Jackman finally steps down. The R-rated Deadpool cannot carry that weight all on its own, after all.
For those of you unfamiliar with the character (shame on you) Remy LeBeau is one of the most iconic X-Men characters to ever grace the pages of Marvel comics. Not only does he possess the ability to charge inanimate objects with kinetic energy (thus causing some truly impressive explosions) but he's a master with a bo staff and an expert in all things concerning sleight of hand -- making a deck of playing cards his weapon of choice. It's the sort of role an actor such as Channing Tatum was born to play, so let's hope everything comes together nicely when all is said and done.
Stay tuned for all of the latest and greatest news associated with the Gambit solo movie. The film has taken years to come to fruition, so let's hope and pray that the Cajun X-Man's first time taking center stage on the silver screen will go off without hitch.
Your Daily Blend of Entertainment News
Originally from Connecticut, Conner grew up in San Diego and graduated from Chapman University in 2014. He now lives in Los Angeles working in and around the entertainment industry and can mostly be found binging horror movies and chugging coffee.