This Rotten Week: Predicting Ghostbusters And The Infiltrator Reviews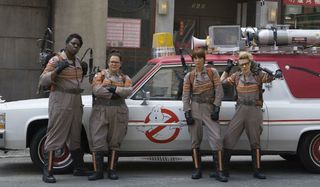 I'm hot. Are you hot? This heat is killing me, but the movies coming out this week might be good enough reason to spend some time in an air-conditioned theater. We've got the theatrical release of both Ghostbusters and The Infiltrator.It's gonna be a Rotten Week!
Just remember, I'm not reviewing these movies, but rather predicting where they'll end up on the Tomatometer. Let's take a look at This Rotten Week has to offer.
A true testament to the legend of the original Ghostbusters legend that, to this day, if you were to say, "Who ya gonna call?" into a crowd of four randomly placed people, you will definitely get a "Ghostbusters" in return. And I'm confident about the randomization of that sample of include different ages, races, genders, everything. That kind of built-in cultural buy-in and understanding is simply impossible to recreate.
And now they are back, in a slightly new form. Specifically, the new Ghostbusters is a team that consists of an all-female crew tasked with saving New York City from varying degrees of paranormal activity. If I were to just base a decision on the trailer, I'd say they missed the mark considerably. It seemed stilted, corny (not in a good way) and decidedly unfunny. But the critical crowd is digging it, with the score at 74% through forty-four reviews posted.
It's not hard to understand the positive critical opinion if not only because of the talent making the film. Director Paul Feig has comedic chops, and his work with Melissa McCarthy has earned a good deal of praise since they first teamed up in 2011. They've worked together four times now, and each title was generally well-received. Now they're back at it again, this time with Kristin Wiig, Leslie Jones, and Kate McKinnon (who is getting the greatest buzz off of Ghostbusters). They'll bring a whole new generation along knowing who to call.
I'd make a terrible undercover agent. For starters, I tend to sweat a bit more than the normal guy. Some of the perps would probably see those pit stains and dripping brow and think I was nervous or something. Dead giveaway. Then there's the part where I tend to get a bit forgetful from time to time. I'd respond to "Doug" instead of like "Mac" (my undercover name) and the whole gig would be up in mere moments.
But that's not the case with Bryan Cranston here. In The Infiltrator, the Breaking Bad star plays Robert Mazur, the DEA agent who went undercover in an effort to bust up Pablo Escobar's distribution ring in the United States. Because I'd watch Cranston read the phone book and be entertained, I think we can get on board here.
Director Brad Furman has two critical hits with The Lincoln Lawyer (83%) and The Take (85%), along with a big miss inRunner Runner (8%). It appears his latest is more aligned with the first two, as a couple of early reviews suggest it's pretty damn good. Hell, this is Bryan Cranston after all.
One hit and one miss from last week. The miss was Mike and Dave Need Wedding Dates (Predicted: 62% Actual: 41%). It was foolish to expect a Zac Efron-led comedy about ever devolving debauchery on the part of the female leads to turn a positive ranking in the critical circles. Sure, it can be done. But a comedy like this needs to fire on all cylinders for universal appeal. Looks like they came up a bit short. Those who liked it thought it cute enough without ever going overboard. But many more saw it as lazy and generic. I should have seen that coming.
Meanwhile, Secret Life of Pets (Predicted: 85% Actual: 76%) was within range, and marks the first critical win for Illumination Entertainment outside of the Despicable Me/Minions franchise. Reviews really took to the simple theme (sort of Toy Story-esque) of what happens when the owners walk away and the pets take on personalities all their own. It feels like there's a sequel in here for sure.
Next time around we've got Star Trek Beyond, Lights Out and Ice Age: Collision Course. It's gonna be a Rotten Week!
Doug began writing for CinemaBlend back when Terminator: The Sarah Connor Chronicles actually existed. Since then he's been writing This Rotten Week, predicting RottenTomatoes scores for movies you don't even remember for the better part of a decade. He can be found re-watching The Office for the infinity time.
Your Daily Blend of Entertainment News
Thank you for signing up to CinemaBlend. You will receive a verification email shortly.
There was a problem. Please refresh the page and try again.