The 9 Best Movies of 2016, So Far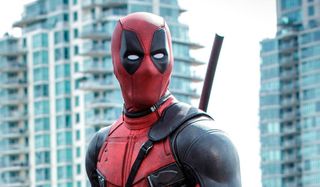 The jury's still out on 2016. While there have been a number of financially successful movies -- several of them from Disney -- we have yet to be blown out of the water by a steady stream of movies flooding the local multiplexes, and instead, spend too much time debating why films like Warcraft and Popstar failed to find larger audiences.
One complaint we keep hearing from readers is that there's nothing good to see this year, be it in theaters or at home. Well, we want to course correct that line of thinking and give you the Best Movies of 2016, So Far! These are the films that knocked our socks off, as chosen by the writers and editors on CinemaBlend. How many of these have you seen? And what's your favorite movie of 2016 so far? Let us know in the comments section.
Captain America: Civil War
The MCU kicked off Phase Three in May with Captain America: Civil War, and it still remains the year's best, most action-packed blockbuster Despite its large cast, the movie never felt overcrowded, instead managing to give every character enough time to shine while still keeping the focus largely on Steve Rogers (Chris Evans). The movie also provided the MCU's most thought-provoking story yet thanks to the heroes' ideological conflict. All that, along with excellent visuals and a compelling antagonist, cement Captain America: Civil War not only as 2016's greatest hits, but a superhero movie that I will always remember fondly. (Adam Holmes)
The Nice Guys
It's been nearly 30 years since the release of Lethal Weapon, but writer/director Shane Black has not lost a single ounce of steam. It's why he can still bring us amazing films like The Nice Guys, and another genius buddy duo in the form of Ryan Gosling's Roland March and Russell Crowe's Jackson Healy. Black's enthusiasm and love for the detective genre is present in every frame, as the twisty-turny investigation through 1970s Los Angeles is just as wild and engaging as the mad ensemble of lead and supporting characters. It ranks among Black's best work, and that says a lot. (Eric Eisenberg)
Deadpool
Superhero movies are all the rage, which is why there was no better time for Deadpool to arrive on the scene and figuratively crap all over this love-fest, while simultaneously contributing to the genre in all the right ways. Delivering sarcasm, vulgar snark and a side of vengeance, Ryan Reynolds' filthy-mouthed character proved it's possible to be an R-rated anti-hero and also be undeniably lovable. What's more, the Tim Miller movie was funny, entertaining, romantic and full of action, all on a relatively modest budget. With so many superhero movies lined up, Deadpool thought outside the proverbial box and gave us one of the best movies we've seen this year. (Kelly West)
Sing Street
The most fun I've had at the movies this year, and in the wake of Civil War, Deadpool and The Nice Guys, that's really saying something. Being a child of the '80s, I have constructed a personal shrine to the John Hughes catalogue in my cinematic geek heart, and Sing Street director John Carney presses all the necessary Hughes-esque coming-of-age buttons as he constructs this shaggy, underdog musical comedy. It's all about a girl... because it's ALWAYS about a girl. But the band that young Dubliner Conor (Ferdia Walsh-Peelo) puts together to impress the girl is a delightful patchwork of '80s loser clichés. The soundtrack is tops, with tracks by Duran Duran and The Jam keeping your toes tapping, while Jack Reynor makes a legitimate case for a Best Supporting Oscar nomination for his turn as the world-weary and wise older brother, Brendan. I can't stop singing the praises of Sing Street. See it, and find out why. (Sean O'Connell)
Zootopia
It's not every day when a Disney movie drops an ethnic slang joke (albeit a relatively tame one) in the first 10 minutes of the film. In fact, the only day that's ever happened is the day you saw Zootopia. The movie successfully walks a tightrope between being the Disney movie that you expect it to be, with cute and friendly talking animals, and being the last thing you'd expect it to be, dealing with incredibly mature topics that most kids won't even recognize until they see it again a decade from now. And they will see it again a decade from now because Zootopia will stand the test of time. (Dirk Libbey)
Everybody Wants Some!!
Everybody Wants Some!! is another classic from Richard Linklater, and further proof that he is one of the greatest American auteurs of all time. Set in Texas, 1980, it revolves around the opening weekend of school for a college baseball team that doesn't really know what the members are going to do with their lives. It explores these weighty existential themes and quandaries with the energy and vigor of a catchy pop song, though, as it randomly meanders and poetically builds in an expertly crafted fashion. A helping hand to anyone feeling lost or overawed, Everybody Wants Some!! is subtly profound, wonderfully human, and constantly fun and entertaining. (Gregory Wakeman)
Hail, Caesar!
We weren't sure what to expect from Hail, Caesar! when we stepped into the theater. We knew George Clooney would be wearing a toga and we knew Old Hollywood would be celebrated (as well as mocked via glorious comedic undertones), but we didn't know that Josh Brolin would be such a delight as a slouching studio boss nearing the end of his rope but still having enough tenacity to solve a slew of problems that would bowl the average person over. We didn't know that a tap dancing Channing Tatum would bring us so much joy, or that Alden Ehrenreich's cheeky drawl would be less amusing than the slew of silly lasso tricks he roped together. While Tilda Swinton might be better at reading for Max Richter albums than she is at playing multiple Hedy Lemarr-types, we overall have few complaints about the amusing Hail, Caesar! The Coen brothers have mastered comedy just as well as they have mastered drama over the years, and it says something that a pleasurable but maybe overly winding comedy of theirs, perhaps not one of their greatest efforts, but satisfying, nonetheless, can make one of our top picks of the year. (Jessica Rawden)
Green Room
Punk rockers, neo-Nazis, expert use of violence, and an unending sense of palpable dread. These are the qualities that make Jeremy Saulnier's single-location (for the most part) thriller Green Room so impeccable. A master class in suspense filmmaking, Green Room is the sort of rare movie that keeps you leaning forward in your seat biting your nails from start to finish. Brutal without seeming excessive, and dark without ever feeling overbearing, Green Room definitively proved what amazing things Anton Yelchin could've done with his already stellar career had it not been for his untimely death earlier this summer. (Conner Schwerdtfeger)
10 Cloverfield Lane
Paramount landed a stealth blow at the box office early this year when 10 Cloverfield Lane arrived out of nowhere. With a tight trio of performances, an ever-increasing atmosphere of doubt and fear, and the biggest third act twist that's been shown on the screen in a good long while, 10 Cloverfield Lane keeps you captive for its entirety. Most importantly, director Dan Trachtenberg's thriller truly proved the worth of the Cloverfield brand, establishing it as an anthology ready for another hungry young director to thrill the world and make a name for themselves. (Mike Reyes)
Your Daily Blend of Entertainment News
Thank you for signing up to CinemaBlend. You will receive a verification email shortly.
There was a problem. Please refresh the page and try again.