This Rotten Week: Predicting Star Trek Beyond, Lights Out And Ice Age: Collision Course Reviews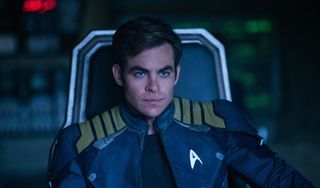 It's a trip to space, a trip back in time and a trip into your nightmares. That's a lot of summer time vacation opportunities! Get ready for Star Trek Beyond, Ice Age: Collision Course, and Lights Out. It's gonna be a Rotten Week!
Just remember, I'm not reviewing these movies, but rather predicting where they'll end up on the Tomatometer. Let's take a look at This Rotten Week has to offer.
In Star Trek Beyond, the third installment of the Star Trek reboot series that began back in 2009, the crew of the Enterprise encounters yet another interstellar enemy who has a serious chip on his shoulder about the work of the Federation, and our intergalactic team of swashbucklers are tasked with getting out of one mess after another. It looks like fun, and like it could be yet another critical hit for the beloved franchise in its 50 years of existence.
Star Trek Beyond looks like it will be a summer popcorn flick through and through, heavy on the action and effects. Reviews have already started coming in, and critics are gaga over Justin Lin's first turn through the franchise after spending years in the world of Fast and Furious flicks. Articles that have been posted cite the stellar character work and action in the movie, and though most agree the story works just well enough to get by, it's also fairly simple.
It's kind of hard to believe, but it was actually 14 years ago that the Ice Age movies launched, featuring characters with the voices of Ray Romano, Denis Leary and John Leguizamo teaming up against the forces of nature that plagued our prehistoric world. Since then, we've seen The Meltdown, the Dawn of the Dinosaurs, and even some Continental Drift, but now it's time for the arrival of Ice Age: Collision Course.
To save you from counting, this is the fifth flick in the Ice Age franchise, and if early reviews can be believed, it continues the downward critical trajectory for the series. The franchise scores to this point are 77%, 57%, 45%, and 37%, respectively, and right now Ice Age: Collision Course is sitting on Rotten Tomatoes with a score of 22%. This is inversely proportional to the box office takes, though, with the last one doing close to $900 million internationally. So while the movies are getting worse, the money prints nonetheless. This won't be the last Ice Age. Rest assured though that number six will be vaguely titled so we'll never know where it fits in the canon.
I'm home alone this week with Mrs. and Little Rotten Week away. So you can forgive me if I made it through about 25 seconds of the trailer for Lights Out before calling it quits. My own brand of paranoia doesn't mix well with horror films, and I generally just avoid the whole genre. So when the lady was flicking the light on and off and kept seeing a creepy silhouette in the doorway then I said, "Let the fans have this one, I'm hitting the eject button."
It's typical that horror movies go one of two ways with critics, without much in between. It's either great (rare), or just a forgettable mess looking to cash in on younger views seeking a thrill. This one looks like the former. Lights Out is doing quite well with critics right now, who are praising director David Sandberg and his first big screen release. From the description it doesn't seem much different than what we would expect from the genre, but good movies prevail and this one looks like a hit. If you're into soiling your boxers, this one looks like it is right for you.
Last week was a sweet one for the Rotten Watch, as both predictions were nearly on the nose. First off, Ghostbusters (Predicted: 72% Actual: 73%) might end up on the money with one more negative review. I'll continue to be confused why this movie had to get made in the first place, but the reviews have been very positive, with nearly three out of every four critics giving it the thumbs up. Admittedly I had a head start with the prediction, as reviews had already started rolling in (which is the only reason I was close). Had it not been for that I surely would have scored it out well outside of my "within 10%" range of success.
Meanwhile, The Infiltrator (Predicted: 68% Actual: 65%) was another one right in the zone. Ultimately this flick will come out on cable like 18 months from now and you'll say, "Oh, that one. I remember that. It looked decent when it came out." It's probably forgettable, but it also sounds like it's good enough to check out one day.
Next time around we've got Bad Moms, Jason Bourne, and Nerve. It's gonna be a Rotten Week!
Doug began writing for CinemaBlend back when Terminator: The Sarah Connor Chronicles actually existed. Since then he's been writing This Rotten Week, predicting RottenTomatoes scores for movies you don't even remember for the better part of a decade. He can be found re-watching The Office for the infinity time.
Your Daily Blend of Entertainment News
Thank you for signing up to CinemaBlend. You will receive a verification email shortly.
There was a problem. Please refresh the page and try again.