How Julia Stiles Feels About Her Big Jason Bourne Scene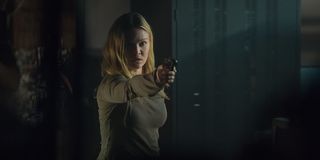 Warning: major spoilers for Jason Bourne are ahead!
Jason Bourne had made four cinematic appearances since 2001, and there's only one other character who co-starred alongside him in all those movies: Nicky Parsons, played by Julia Stiles. Originally part of Operation Treadstone, Nicky gradually became one of Jason's allies, and it was thanks to her that he learned more about his past in the franchise's latest installment, Jason Bourne. However, she was killed early on in the new movie, but Stiles was okay with her character's demise.
Although she didn't know Nicky's fate before joining Jason Bourne, Stiles told EW that because Nicky's death was dramatic and had meaning, she was fine with being axed. She explained:
A decade after the events of The Bourne Ultimatum, Jason Bourne reunited with Nicky Parsons as a member of a hacktivist group led by Christian Dassault (played by Vinzenz Kiefer). While hacking into the CIA's mainframe (no doubt sticking it to her former employers was cathartic), Nicky discovered documents that provided more information about how Jason Bourne was recruited into Treadstone and his father's involvement in the program. She soon tracked him down in Greece, but unfortunately for them, the CIA was also in the area. Although Jason and Nicky were able to escape the initial wave of agents after them, Nicky was killed by the Asset (played by Vincent Cassel), another Treadstone operative with a grudge against Jason. Before dying, she gave Jason a key to the locker holding the CIA information she uncovered earlier, thus setting him on his new adventure.
Considering how many bodies drop when Jason Bourne is running, it's a wonder she survived this long. Nevertheless, Nicky has been part of the franchise since the beginning, so her loss will definitely be felt should the franchise continue. So far Jason Bourne has earned over $116 million worldwide, but reviews have been decidedly mixed. It's still unclear if Universal Pictures will move ahead with Bourne 6, but if they do, it will be sans-Nicky Parsons. Jason will have to get hacking help from another computer expert.
Jason Bourne is currently playing in theaters, and you can click here to read our review of it.
Connoisseur of Marvel, DC, Star Wars, John Wick, MonsterVerse and Doctor Who lore. He's aware he looks like Harry Potter and Clark Kent.
Your Daily Blend of Entertainment News
Thank you for signing up to CinemaBlend. You will receive a verification email shortly.
There was a problem. Please refresh the page and try again.