What Lumiere and Cogsworth Will Look Like in The Live-Action Beauty and the Beast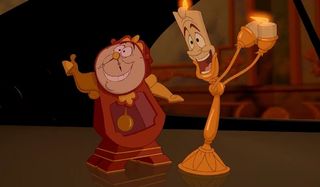 The live action Beauty and the Beast remake released its first trailer this past May, and while the preview provided an excellent tour of the castle setting and the quickest of glances at Emma Watson's Belle, none of the movie's anthropomorphic characters made an appearance. The closest things we got to that was hearing Ewan McGregor's Lumiere and Ian McKellen's Cogsworth speaking about the "beauty" who entered their humble abode. Three months later, now we finally have our first taste of what the human-like candelabra and clock will look like in this re-telling.
Producer Jack Morrisey posted this concept art on his Facebook page of the live action versions of Lumiere and Cogsworth (passed along by Twitter user macondom). This comes from one of the special features on the original Beauty and the Beast movie's upcoming 25th anniversary Blu-ray/DVD release. Morrisey notes that these designs may not be exactly how they look in the final product, but they're close. Perhaps this "sneak peek" at the new Beauty and the Beast movie will also include artwork at some of the other transformed characters, like Emma Thompson's Ms. Potts or Stanley Tucci's Cadenza. As for Lumiere and Cogsworth, this is definitely a less cartoonish look than what we're used to, which was to be expected given this is a live action movie and how advanced CGI technology is nowadays. I like how Lumiere doesn't seem to have a face in the artwork, whereas Cogsworth's clock face works as an acceptable substitute for his human visage.
This look at Lumiere and Cogsworth in Beauty and the Beast certainly provided a good idea about how the Beast's other servants might look like in their walking and talking inanimate object forms, but the fun isn't over yet. Head to the next page to get the first look at the live action Beauty and the Beast's Gaston and LeFou!
Along with the first image of Lumiere and Cogworth, producer Jack Morrisey also posted an image of Josh Gad's LeFou and Luke Evans' Gaston in what looks like them in the middle of a musical number at the local tavern. A new version of "Gaston," anyone?
Unfortunately, this isn't quite as clear as the previous image. LeFou is far away belting out a lyric, while Gaston's back is facing the camera. Hey, at least the latter is still wearing his trademark red coat, and the townsfolk still seem to have a lot of misplaced love for him.
Finally, head to the next page to see how actor Dan Stevens will look in the feature.
As anyone who's familiar with the Beauty and the Beast tale knows the Beast didn't always look like a monster. He and his house staff were turned into their unusual forms by a curse, but they're eventually reverted back to being humans. Here we see Dan Stevens back to looking normal, and if the live action movie is following in the footsteps of the 1991 animated classic, then we'll know him here as Prince Adam.
Unlike the previous two images, this is from behind the scenes, but at least he still has that long hair and white tunic his animated counterpart had. It just goes to show how closely this remake will be inspired by the animated movie, albeit with some changes here and there. Now that these images are out, it'd be great if we got a clear shot of Belle (preferably in her iconic yellow gown) and see Dan Stevens in his beast form. If those aren't on that special feature, ideally the next trailer will provide those looks.
Beauty and the Beast will be released in theaters on March 17, 2017.
Connoisseur of Marvel, DC, Star Wars, John Wick, MonsterVerse and Doctor Who lore. He's aware he looks like Harry Potter and Clark Kent.
Your Daily Blend of Entertainment News
Thank you for signing up to CinemaBlend. You will receive a verification email shortly.
There was a problem. Please refresh the page and try again.