Sully Looks To Soar High At This Weekend's Box Office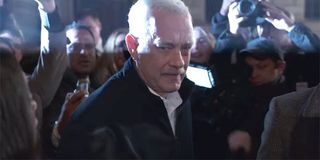 We love superheroes here at CinemaBlend, but every now and then we want to watch a real hero perform some real world heroics. With Clint Eastwood's latest dramatic outing, Sully, we will get that opportunity. The film has already generated a ton of buzz in recent months -- with many considering it an early Oscar contender -- and it hasn't slowed down at all. In fact, recent analysis projects that Sully's currently on track to win big at the box office this weekend.
We've learned that anticipation for Sully has reportedly reached insane levels courtesy of the Fandango Fanticipation meter -- a means by which the ticket website gauges fan enthusiasm. The film recently ratcheted an impressive 80 out of 100 points on the scale, suggesting that there is a sizable audience looking to buy a ticket for a screening this weekend. The report further indicates that Sully is currently on track to easily outscore Tom Hanks' other recent dramatic outings Captain Phillips and Bridge of Spies. (both also based on incredible true stories)
The anticipated box office success of Clint Eastwood's Sully shouldn't come as a massive shock to anyone. For starters, the film centers on a widely known event that's still very fresh in the memories of most Americans. The Miracle on the Hudson became worldwide news when it happened on January 15, 2009, and the movie only took seven years to get made. As far as "based on a true story" films go, that's a pretty fast turnaround. Beyond that, it's not just a true story, but also an uplifting story about a single man who showed extraordinary cunning and heroism in a terrible situation. That's the sort of optimistic narrative that some people need these days.
Then there's the undeniable prestige attached to Sully's production. With Clint Eastwood behind the camera, and the endlessly likeable Tom Hanks in front of it, Sully's an astoundingly easy sell for most mainstream audiences. From the very beginning there hasn't been any question as to whether or not Sully would generate Oscar buzz, and that's going to easily carry the film through award season.
Of course, regardless of the fan anticipation, it's still worth pointing out that the critics have not universally praised Sully. It has attained a very commendable 78% on Rotten Tomatoes, but some critics have had decidedly mixed reactions to the film. Cinema Blend's own Eric Eisenberg only gave the film two out of five stars in his own review. If we've learned anything from this summer at the box office, it's that word of mouth can spread fast, which could lead to a potential dip in week two ticket sales. We're not there yet, but it's still worth acknowledging.
Cinema Blend will keep you up to date with any and all relevant details related to the upcoming release of Sully as more information becomes available. The film will open wide this weekend on Friday, September 9th.
Originally from Connecticut, Conner grew up in San Diego and graduated from Chapman University in 2014. He now lives in Los Angeles working in and around the entertainment industry and can mostly be found binging horror movies and chugging coffee.