The It Movie Created A Jack In The Box Clown And Good Luck Sleeping For Weeks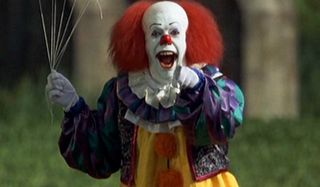 Andres Muschietti's impending remake of It is one of the most eagerly anticipated horror movies of 2017. Which is understandable considering that it's an adaptation of Stephen King's lauded 1986 novel of the same name. Need further evidence that this might terrify you? Well pretty much everything that's been released regarding 2017's It has, rather helpfully, been terrifying. Which now includes this Jack In The Box toy to celebrate the end of its production that is set to seep into your nightmares and haunt you for weeks.
We can thank Barbara Muschietti, one of the producers of It, for uploading this image to commemorate the occasion, as she took to her Instagram to share the creepy toy with the world after her brother Andres Muschietti finished shooting on the film. Barbara Muscietti's Instagram is packed full of images from It's shoot. So those of you that are looking to devour every little bit of information that you can regarding the horror remake should immediately head over to her page to increase your excitement for the film.
Considering the popularity of both Stephen King's novel and the TV miniseries of It, there's quite a lot of pressure and excitement regarding this reworking of the story. Reaction has so far been pretty positive to what we've seen from the film, with Bill Skarsgard's Pennywise The Clown sending a collective shiver down the spine of the internet when the first picture of the villain emerged a few weeks ago.
It opens upon with the murder of a child by the name of George Denbrough in the fall of 1988, who is killed inside the storm drain of a small town. Close to a year later, in the summer of 1989, George Denbrough's older brother Bill gathers together a group of his friend to try and find the murderer. What they don't know is that the murder was actually committed by an evil entity known as Pennywise, who awakens every three decades as an ageless, shapeshifting demon.
Alongside Bill Skarsgard is 13-year-old Jared Lieberher, who over the last few years has amassed an impressive CV thanks to his roles in St. Vincent, Midnight Special, and The Confirmation, and will take the role of George's older brother Bill Denbrough. However, I have to admit I'm a little apprehensive considering that Cary Fukunaga was attached to the project for so long only to drop out after six years of work on the film back in 2015.
Cary Fukunaga is still listed as a co-writer, alongside Andres Muschietti, Gary Dauberman, Chase Palmer and David Kajganich. So many cooks isn't usually a good sign for a film. But considering how enjoyable Andres Muschietti's Mama was, and how good the source material is, let's hold out hope that all will be well. We'll find out when It is released on September 8, 2017.
Your Daily Blend of Entertainment News
Thank you for signing up to CinemaBlend. You will receive a verification email shortly.
There was a problem. Please refresh the page and try again.